March 25, 2010
By J.D. Cook and Ric Albano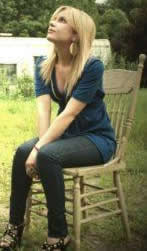 Darcie Miner is an extraordinarily talented musician and her work in the past has certainly been good. But with her latest album, Loneliness Anonymous, she has taken that next step and delivered something that is truly great as this latest album ventures into sounds and themes previously unexplored in Darcie's decade plus in the public spotlight.

This evolution into her latest work is equivalent to when Bob Dylan "went electric" in 1965. Up until that point, Dylan was a fantastic folk artist but was only really appreciated by a select audience. Once he went electric and fused his folk talents with other genres, he became a true legend. Similarly, with Loneliness Anonymous, Darcie Miner has paired her excellent vocal skills and songwriting with the production techniques of Jimmy Patton and the two go together like bread and butter to make one delicious album.

Thematically, the album is a bit dark with songs of pain, regret, and remorse. All of the first five songs appear to deal with broken relationships while several others seem to address family issues and troubles. Whether any song is definitively about a lover or a relative is always a bit unclear except on "Trainwreck in Pennsylvania" where Darcie explicitly mentions her brother. The song itself is an emotional atom bomb and it serves as the climax of an already heart-squeezing album. The piano on the song sounds fresh considering it is the instruments only appearance on the album, but it is used to illustrate and mimic Miner's somber vocals.

The guitars on Loneliness Anonymous stand out on many of the songs, with the solo at the end of the first track, "Vulnerability" being exquisite, albeit a bit short. Many of the songs feature a distinct, Americana vibe with Darcie's trademark acoustic nicely accented with a mix of electric and pedal steel riffs. This is particularly revealing in the song "24″, where the steel guitar adds intrigue. Possibly the best song on the album, this tune about outlook on life at different ages blends the "traditional" Darcie Miner sound with the Patton sound, and evokes loss and sadness while using expletives to add realism and impact.

Speaking of the Jimmy Patton sound, one thing that really adds to the entertainment aspect of this album is the unique sound effects scattered about. The fast-paced "Rollerskating Song" contains some wild synth and vocal effects while the melancholy "Somerset" features some unique, reverberated percussion against an emotional backdrop of regret then hope. "Patience, Boy" includes a potpourri of effects decorating a song that breaks from the emotional depth of the album into a tangent of a lighter pop feel.

Within the heart of the album, you'll find the most interesting and entertaining songs. Although they all deal with some kind of heartache, regret, or loss, they each exhibit a unique color and flavor. Starting with the title track, "Loneliness Anonymous", a self-blaming country ballad laced with thoughts of escape, each subsequent song seems to grow bolder and stronger. The afore-mentioned "24″ adds a bit of resilience to the lament and introduces a strategically placed explicit lyric which rebelliously slices through otherwise sad and soothing mood. Speaking of explicit, "Bad Habits and You're Full of Shit" follows with its bold title and upbeat, "you-go-girl" mood along with fantastic vocals that strike the perfect chord of song craft. "Wide Awake In Silence" has excellent guitar work along with another upbeat rhythm and a fantastic hook. Its is a song that is at once sorrowful without really being sad and it ties in nicely with the theme of the following "Somerset", where Darcie addresses the apparent legal woes of someone very close.

The final track, "There Is No Getting Through", seems to speak of a final acceptance and realization of the loss experienced. Paul Murr's drums stand out on this song more so then on other tracks and the steel guitar is once again used to a tee. The fade out on the album is a bit long, but the sounds of a nighttime Pennsylvania road seem audible as, perhaps a final clue to the album's theme. In the end there is a sense of resolve and maturity as the emotional journey is over and better days appear to be on the horizon.

In any case, this album is great and gets better with each listen. It is easy to see why DAMES of Pa rated Loneliness Anonymous the #1 album of 2009, and leaves us eager to hear what Darcie Miner will do next.
~
Share this article