Big Blue Bullfrog Features 2011
October 26, 2011
Mass Effect Panel at NYCC
J.D. Cook
On Saturday, October 15th I sat at Comic Con in New York City watching a panel about the Mass Effect video game franchise.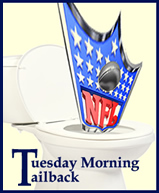 October 25, 2011
Cool As the Brees
Tuesday Morning Tailback
Less than halfway through the season, Drew Brees has 18 touchdown passes and leads the league with 2,477 yards, well on his way to his sixth consecutive 4,000 yard season, which will tie an NFL record. Yet t seems like this constantly underrated QB seems to once again be falling under the radar.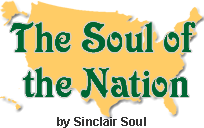 October 21, 2011
America's Dumbest Vice President
Sinclair Soul
Vice President once again orchestrated a shameless display of demagoguery, the likes of which most of us abandoned in junior high school. But for good ole Joe, it is the just the latest in a long pattern of using his privileged position as a public servant to spit out asinine, outrageous, weird, and downright dumb things.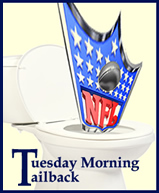 October 18, 2011
Nicknames Suck,
Let's Shake On It
Tuesday Morning Tailback
Why can't a serious football fan get serious analysis without the hype and marketing tie-in? I would just like to appreciate some of the fantastic on-field feats that Detroit Lions wide receiver Calvin Johnson has been doing this season, but the sports media has insisted on blowing him out of proportion with the ridiculous nickname "Megatron".
October 13, 2011
New York City Comic Con
J.D. Cook
Big Blue Bullfrog has been granted press credentials for New York Comic Con, the East Coast's biggest popular culture convention and the only one that takes place in the comic book, publishing, media, and licensing capital of the world – Gotham City.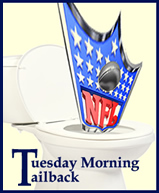 October 11, 2011
Commitment to Excellence
Tuesday Morning Tailback
The NFL lost a true rebel this week when Raiders owner Al Davis died on Saturday. If you've paid attention to the blitz of coverage on Davis' passing, you will have heard his long list of accomplishments. But what truly made Al Davis an original was his fearlessness in making unpopular decisions.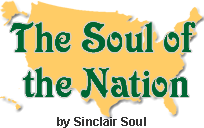 October 7, 2011
Pay It Backward
Ric Albano
President Obama has been mastering the art of blaming others for the economic woes which we are all going through on his watch.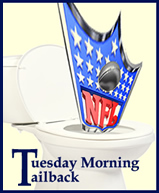 October 4, 2011
Soft Pink Underbelly
Tuesday Morning Tailback
The flamboyant display of pink on the playing field has, frankly, run its course. I'm not in any way saying that the NFL should abandon the cause of breast cancer awareness, I just think it is a bit over the top to splash it around so prevalently, chipping away at the integrity of the game. On the field itself, it should be 100% about football.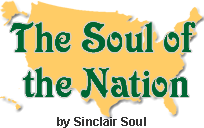 September 30, 2011
Cain Is Able
Ric Albano
While no one is payig attention, Herman Cain is slowly creeping up in the polls due is straight talk and unconventional approach.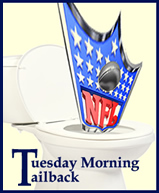 September 27, 2011
When the Roof Caves In
Tuesday Morning Tailback
Man, you've got to feel it for the Minnesota Vikings fan. The team which has an infamous history of getting really, really close but collapsing at the end, has lived this out in a microcosm over the first three weeks of the 2011 season, as they've blown substantial halftime leads only to lose each game and start off the season 0-3.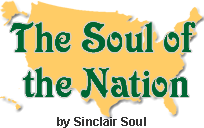 September 23, 2011
Joe Sold His Soul for a Television Show
Ric Albano
What happened to Joe Scarborough? Did he really set aside all of his moral scruples just to "fit in" at the pathetic MSNBC?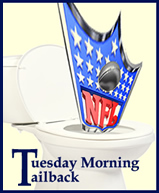 September 20, 2011
Polarizing the Football World
Tuesday Morning Tailback
This past Sunday, the ESPN show "Outside the Lines" focused on Denver Broncos quarterback Tim Tebow saying "this third-string quarterback polarizes the football world". Yet this same network, along with the rest of the football press, rallies behind the "redemption tour" of Michael Vick, a figure who actually has done much to polarize.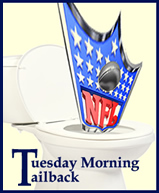 September 13, 2011
Consistency vs. Asininity
Tuesday Morning Tailback
A rant on the tendency to destroy tradition in favor of trend in various elements from stadium naming to uniform design to Monday Night Football to Tuesday Morning Football.
September 7, 2011
Summer Movie Roundup 2011
The Cultural Communist
A critical look at the good, bad, and ugly of the summer films from Captain America to the latest X-Men installment to the conclusion of the Harry Potter series.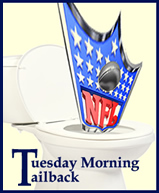 September 13, 2011
2011 Season Preview
Tuesday Morning Tailback
Today we will put our own credibility on the line by making our own picks, division by division, knowing that there is so much unforeseen in any given NFL season.