Big Blue Bullfrog Features 2011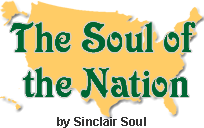 December 31, 2011
Paul Is Dead, Miss Him
Sinclair Soul
People love conspiracies so much that they will filter out any evidence to the contrary even if revealed by the original conspirator.

December 29, 2011
An NBA Christmas
Oliver Layco
The NBA returned on Christmas Day from the brink of a season lost with a slate of five games throughout the day.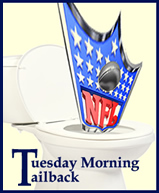 December 27, 2011
Unbalanced
Tuesday Morning Tailback
A preview of the final day of the NFL regular season as well as a scorning of the idiotic schedule makers in the league who moved around the game times.

December 25, 2011
Referee Interference
J.D. Cook
I don't want to be that guy, but there were numerous bad calls in that game. Nonetheless, the Giants still pulled out a win with a suffocating defense in the second half.
December 24, 2011
# 1 Rock Christmas Song
J.D. Cook
Father Christmas
by The Kinks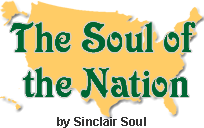 December 24, 2011
The Night Before Christmas – in Gothem
Nick Larsen
A Christmas treat from Big Blue Bullfrog to our loyal readers (not really, really a Soul of the Nation article).
December 23, 2011
# 2 Rock Christmas Song
J.D. Cook
Another Christmas Song
by Jethro Tull
December 23, 2011
The Importance of Belief
The Cultural Communist
Every year, I think of Christmas as a time to learn a lesson and often I kind of force a faux lesson on myself to make things more interesting. But this year I legitimately had to relearn something I had forgotten. Life is grand if you still believe in the fantastic.
December 22, 2011
# 3 Rock Christmas Song
Ric Albano
I Believe in Father Christmas
by Greg Lake
December 22, 2011
The Hobbit Preview
Oliver Layco
After a few director changes, studio changes, and months of filming, the first footage of The Hobbit has been unleashed upon us; and all I can say is, I can't wait to return to Middle Earth.
December 21, 2011
# 4 Rock Christmas Song
J.D. Cook
Happy Xmas (War Is Over)
by John Lennon / Plastic Ono Band
December 21, 2011

Sex and Swedish People


J.D. Cook


Big Blue Bullfrog attended the world premiere at the Ziegfeld Theatre in New York City on Wednesday, December 14th.

The Girl With the Dragon Tattoo Review


Nick Galasso


There's a very specific brooding feel that went along with the original "Millennium Trilogy," that is captured perfectly while dealing with very complex characters in a very convoluted story.
December 20, 2011
# 5 Rock Christmas Song
J.D. Cook
Christmas Lights
by Coldplay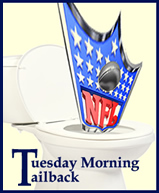 December 20, 2011
One
Tuesday Morning Tailback
We celebrate the one year anniversary of the initial Tuesday Morning Tailback article with a special, multi-subject look at the past week in the NFL.
December 19, 2011
# 6 Rock Christmas Song
J.D. Cook
Don't Shoot Me Santa Clause
by The Killers

December 19, 2011
One Last, Final Last Chance
J.D. Cook
How this team keeps blowing it against inferior teams at home only to get yet another "second" chance, is beyond me.
December 18, 2011
# 7 Rock Christmas Song
J.D. Cook
Christmas
by The Who
December 17, 2011
# 8 Rock Christmas Song
J.D. Cook
Christmas Wrapping
by The Waitresses

December 17, 2011
Uncharted 3 Collectors Edition
Oliver Layco
A short breakdown of all the extras and goodies included with the collectors edition.
December 16, 2011
# 9 Rock Christmas Song
J.D. Cook
Wonderful Christmas Time
by Paul McCartney
December 16, 2011
The Last of Us Preview
Oliver Layco
With the likely release date not until late 2012, theories Have been forming throughout the week leading up to the Video Game Awards on what to expect from The Last of Us.
December 15, 2011
#10 Rock Christmas Song
J.D. Cook
Do They Know It's Christmas?
by Band Aid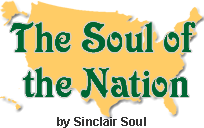 December 15, 2011
War is Over!
Sinclair Soul
Many have been critical of this end to operations in Iraq, with virtually no combat forces left to quill any further insurrection. But I'm going to take an optimistic view. Call me naive, but I don't ever wish to see another one of our troops in harm's way in Mesopotamia.
December 14, 2011
#11 Rock Christmas Song
J.D. Cook
Thank God It's Christmas
by Queen

December 14, 2011
Freedom To Lose
Mitch Zink
It was around the middle of summer where I decided to analyze the political viewpoints of each candidate and, after a long and arduous process, I realized that former New Mexico Governor Gary Johnson was the right guy for me. Unfortunately, out of thirteen GOP debates, there have been only two where Gary Johnson has been invited.
December 13, 2011
#12 Rock Christmas Song
J.D. Cook
Peace On Earth / Little Drummer Boy
by David Bowie & Bing Crosby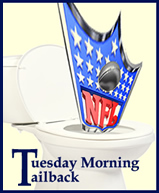 December 13, 2011
Seven Reasons Why 2011 is
The Year of the Quarterback
Tuesday Morning Tailback
With just about every major record in play and some incredible stories of the unexpected, we name the seven quarterbacks who will make 2011 a year for the ages.

December 12, 2011
Victory is Sweet
J.D. Cook
Last night's dramatic 4th quarter win in Dallas sets up a likely showdown for all the marbles when the teams meet again New Year's Day, the final day of the regular season.
December 11, 2011
Hugo Review
Nick Galasso
Surely Martin Scorsese's first foray into the genre of family films is a sure-fire failure. I mean, the guy should just stick to what he knows best, right?
Well, no, actually.

December 10, 2011
Skyrim Review
Ryan Caso
I have been playing the "Elder Scrolls" game series for 15 years now so separating that portion from Skyrim was difficult and unorthodox for me. But I feel it is essential for the gaming community at large because Skyrim really breaks from it.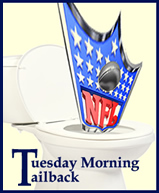 December 6, 2011
Cut It Out!
Tuesday Morning Tailback
In our second consecutive look at the media hype in the NFL, we explore the incredible turn-around in the perception of Tim Tebow in just five short weeks.

December 4, 2011
They Blew It
J.D. Cook
I don't see this week's loss to Green Bay as any kind of "moral victory". Beyond the fact that a loss is a loss is a loss, this was a game that the Giants could have and should have won at home.

December 1, 2011
Super Mario 3D Land Review
Nick Larsen
Following the classic formula of Bowser kidnapping Princess Peach, and Mario coming to her rescue, Super Mario 3D Land marks the return of classic items as well as updates to old ideas.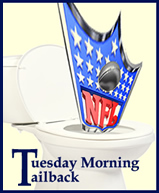 November 29, 2011
November's Champions
Tuesday Morning Tailback
Constantly hyped by the media, "America's Team" the Dallas Cowboys are once again being crowned far, far too early. But as recent history has shown, November's champions become January's chumps.

November 29, 2011
The Holiday Season
J.D. Cook
Just as sure as Santa Clause, you can count on the Giants Holiday Season collapse virtually every year of Coughlin's tenure. Consistency, whether good or bad, usually points to a team's coaching staff.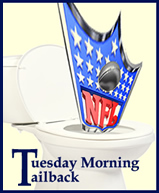 November 22, 2011
Crashing at Home
Tuesday Morning Tailback
What the hells is going on with all these home teams blowing divisional games? Is this a sign of more competitiveness in the NFL or just a sign of rabid mediocrity?

November 21, 2011
Dreadful!
J.D. Cook
The pathetic performance Sunday against a divisional rival on the ropes, knocks the Giants off their privleged position to a spot where they'll really have to work to become NFC Champs.

November 16, 2011
Uncharted 3 Review
Oliver Layco
Uncharted 3: Drakes Deception is the latest installment and an amazing conclusion to the Uncharted series on the Playstation 3.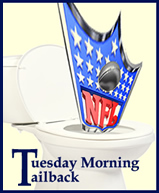 November 15, 2011
NFL Midseason Report
Tuesday Morning Tailback
This week we will give our assessment of the season so far as well as analyze how accurate our own predictions were two months ago with our 2011 Season Preview.

November 14, 2011
Clash of the NFC Titans
J.D. Cook
The Giants faced the 49ers this past Sunday in a throwback to the glory days of the 1980s. This game would determine who is firmly in second place behind the Green Bay Packers in the NFC.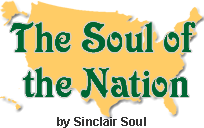 November 11, 2011
Season Of the Witch
Ric Albano
You don't have to be a Penn State alumni or fan of PSU to feel the chill and the sickness of this situation, especially among us Pennsylvanians. But was the hasty of firing of legendary coach Joe Paterno really warranted?

November 9, 2011
The NFL's True Gunslinger
J.D. Cook
This past Sunday afternoon against the Patriots, Eli Manning proved once again that he can deliver when his team needs a score to tie or win the game. Giants fans were instantly reminded of the his heroics in Super Bowl XLII against the then-undefeated Patriots four years ago.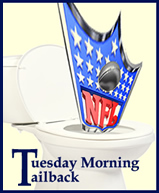 November 8, 2011
The College Scam, Part III
Tuesday Morning Tailback
The BCS was established in 1998 to avoid the controversy of a "split" National Champion based purely on polls. But it has failed miserably on several occasions since, and for true football fans the college game is swirling down the toilet faster than ever.
November 7, 2011
Marvel's Shining American Star
The Cultural Communist
The most patriotic and perfect comic of this new decade has to be Venom. It follows the story of bully turned war hero Flash Thompson. Spiderman fans will instantly recognize him as Peter Parker's high school rival.
November 6, 2011
Paranormal Activity 3 Review
Nick Galasso
The Paranormal Activity series is one that has been met with a very split reaction amongst moviegoers. You either think that it's absolutely stupid and hokey, or you think that it's a fine example of a good modern-day horror film.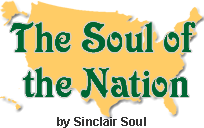 November 4, 2011
The Darwin Economy
Sinclair Soul
In his new book The Darwin Economy, Robert H. Frank actually advocates going against the "natural selection" of a free market in order to implement some selective "intelligent design" into the economy.
November 2, 2011
"Hey Listen!"
Nick Larsen
A man dressed as Link braves cold wind and strange looks to reach the Mecca for geeks under a star filled sky, New York City Comic Con.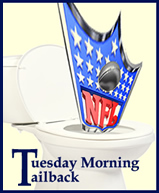 November 1, 2011
Prince Philip
Tuesday Morning Tailback
Last night was a fun night of schadenfreude for Philip Rivers haters like me, as he threw two early interceptions and then fumbled a snap late in the game that ultimately gave Kansas City the victory in a crucial divisional game. But why do I have such animus towards this football player?

October 30, 2011
Arkham City Review
The Kat Valentine
Arkham City throws the player head first into the action without a moment's notice. It also includes something all Batman fans will appreciate — you get to kick major ass as Bruce Wayne. If there is a better way to fulfill a Batman fan's dreams, I don't know what it is.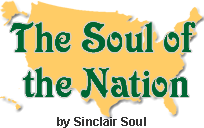 October 28, 2011
Where the Hell is
John Stewart?
Sinclair Soul
A year ago John Stewart staged his Rally to Restore Sanity, where he claimed the mantle as the man in the "reasonable center", above the frey of the extremists on both sides. That was as a reaction to the Tea Party movement of 2010. But where is Stewart in 2011 with the rampant "Occupy" movements?