Big Blue Bullfrog Features 2012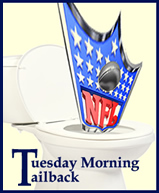 January 31, 2012
Losing Momentum
Tuesday Morning Tailback
I've never signed on to the notion that moving the final game out of a partisan stadium to a neutral location, adding an extra week in between, and piling on all the fluff surrounding the big game to reach a wider audience of non-football fans makes for a superior on-field product.

January 28, 2012
Cookie to Satisfy Sweet Tooth
Victoria Abrego
A recipe for Nutella double chocolate chip cookies which make great thank-you gifts.
January 26, 2012
The Protomen
Nick Larsen
With mysterious origins and stage names as varied as can be, The Protomen call themselves "storytellers" recreating the tale of Megaman in the new age.
January 25, 2012
MGS 2 and Philosophy
J.D. Cook
To me, the classic game Metal Gear Solid 2 left me with an urge to go out into the world and leave something profound behind.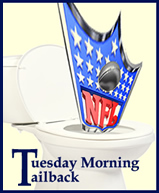 January 24, 2012
Goat
Tuesday Morning Tailback
Sunday's Conference Championships each had a "goat" which cost the game for each losing team. We explore, a brief history of related goats, some for infamous than others.

January 23, 2012
Florida Primary Overview
Blaise Greco
Our man in Florida gives his analysis of the candidates in the week leading up to that state's Republican primary on January 31st.

January 23, 2012
Old Fashioned, Head Knocker
J.D. Cook
Seldom does the NFL hearken back to its gridiron days anymore. Rules to promote the spectacle that is offense, and protect players have all but eliminated games like the Giants-49ers classic NFC Championship game of 1991, but wait…
January 20, 2012
The Multiplayer Question
Ryan Caso
This is not an age when every game should have multiplayer. There never will be an age where every game should have multiplayer.
January 19, 2012
The Megas
Nick Larsen
This four man team of musicians had come together under the mission to spread the word of justice that is Megaman.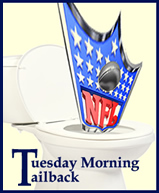 January 17, 2012
Hardy Har Harbaugh
Tuesday Morning Tailback
The Harbaugh brothers have each proven to be excellent NFL coaches as their teams, John;s Baltimore Ravens and Jim's San Francisco 49ers, have each advanced to their respective Conference Championships.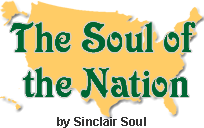 January 16, 2012
MLK
Sinclair Soul
A short tribute to the great civil rights leader on this holiday which honors his life.

January 15, 2012
Giants Don't "Pack" It In
J.D. Cook
What can't I say about the Giants game against the Packers? Eli Manning continues to be the gunslinger I said he was a few weeks ago with the article The NFL's True Gunslinger. He is having a fantastic season and I hope it continues in San Francisco.

January 13, 2012
Mario Kart 7
Nick Larson
With the seventh game in the classic Mario Kart gaming series, a fan boy like me couldn't help but be giddy.
January 12, 2012
brentalfloss
Nick Larsen
Following his first CD, What if This CD…Had Lyrics?, brentalfloss re-released it with all the words removed as a karaoke album called What if This CD…Didn't Have Lyrics?. A fun CD to sing along with as well as a great set of instrumentals that mimicked the videogame themes they were inspired by.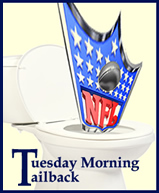 January 10, 2012
Wildcard Weekend
Tuesday Morning Tailback
This past weekend was a very special weekend of football in my household, one that may never be matched again. My family includes Lions, Giants, and Broncos fans and all our teams were in competition in the Wildcard round.

January 9, 2012
Matty Iced
J.D. Cook
Much like every successful Giants season the defense is at the core of this team's success. Although the dominant front four only had 2 sacks they were in "Matty Ice's" face all day. The Giants next face the Green Bay Packers.

January 4, 2012
Split Decision
Ric Albano
Last night's Iowa Caucuses gave us the closest decision in history as Mitt Romney baet out Rick Santorum by just eight votes statewide.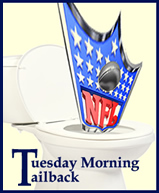 January 3, 2012
B.S. and No B.S.
Tuesday Morning Tailback
We now get to enjoy the playoffs which will eliminate eleven of the twelve playoff teams and crown a world champion on February 5th. But first, we have some regular season B.S. to clean up.

January 2, 2012
The Showtime Rundown
Oliver Layco
As a Lakers fan, I didn't know what to do with myself during the NBA lockout. So when Laker basketball came back on Christmas, it was a welcome present indeed.

January 2, 2012
Giant Foot On Cowboys Throat
J.D. Cook
The Giants kicked ass this week against the Dallas Cowboys in the game that determined the NFC East title. There is really not much more to say about it.