Big Blue Bullfrog Features 2012

February 29, 2012
Romney Holds Off Santorum
Big Blue Bullfrog
Mitt Romney fought off a recent surge by Rick Santorum and won the Michigan primary by three percentage points. Romney also won big in the Arizona primary to gain some momentun heading into next week's "Super Tuesday".
February 26, 2012

---
February 24, 2012
The #2 Film of 2011
Nick Galasso
Slapped with the notorious NC-17 rating, Shame turns out to be a powerful look into the life of a sex addict.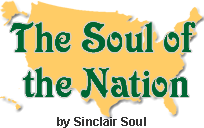 February 24, 2012
Santorum's Honesty Problem
Sinclair Soul
This article is not about the man's dishonesty, but about his extraordinary honesty and how this will ultimately sink his Presidential candidacy.
February 22, 2012
The #3 Film of 2011
Nick Galasso
With his first foray into the genre of fmily films, Martin Scorsese gives us what may very well be one of his best works with Hugo.
February 20, 2012
The #4 Film of 2011
Nick Galasso
Overall, with its fine performances and solid screenplay, 50/50 is a deeply personal tale that is sure to keep you laughing while pulling at your heartstrings.
February 18, 2012
The #5 Film of 2011
Nick Galasso
Super follows the same basic premise of 2010's Kick Ass; an ordinary person running around as a costumed vigilante and beating up criminals.
February 17, 2012
Mendacity & Mainstream Media
Ric Albano
This past week offered plenty of examples of new, substantive stories which have been largely ignored by the "mainsteam media" as well as a few straight-up, oft-repeated lies.
February 16, 2012
The #6 Film of 2011
Nick Galasso
The Skin I Live In is one of the year's most bizarre and disturbing experiences. You may find yourself constantly drawn in and "weirded out" at the same time.
February 14, 2012
The #7 Film of 2011
Nick Galasso
Director Alexander Payne gives us another solid entry to his already fantastic filmography with The Descendants, his first film since 2004's Sideways.
February 12, 2012
The #8 Film of 2011
Nick Galasso
When aliens attack and teenagers are forced to protect their homes, the film Attack the Block provides a nice balance between suspense and levity.

February 11, 2012
Romney Gets Narrow Victory
Big Blue Bullfrog
When the results of the week-long Maine Caucuses being tabulated on Saturday, Mitt Romney got about 39.6% of the total vote, barely edging runner-up Ron Paul who goy a little over 36% of the vote.
February 10, 2011
The #9 Film of 2011
Nick Galasso
In one of the year's darkest films, We Need to Talk About Kevin follows a mother who tries to deal with the aftermath of a school shooting caused by her son.
February 10, 2011
The Woman in Black Review
J.D. Cook
I was initially excited by the previews of this film, which harkened back to classic Gothic horror tales. My hopes were set high early, so I guess it only makes sense that they would be let down later.
February 9, 2011
The #10 Film of 2011
Nick Galasso
After a string of mediocre films followed by a dozen years of inactivity, The Muppets made their return to the big screen in 2011 with a film of pure nostalgia.

February 9, 2012
NBA All-Star Critique
Oliver Layco
The NBA All-Star game is supposed to showcase for the league's best players, but that definition of 'best' has changed in recent years.
February 8, 2011
The Films of 2011
Nick Galasso
We commence our special feature on the top films of 2011 with an overview of the feature and a listing of the "Honourable Mention" films.
The Giants Win Another Super Bowl!
Eve To Adam off to Indianapolis
Tuesday Morning Tailback Season Wrap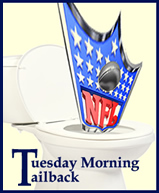 February 7, 2012
Season Wrap
Tuesday Morning Tailback
So ends another NFL Season with the Giants victory in Super Bowl XLVI. Tuesday Morning Tailback takes one more final look back at the 2011 season before going on a 28 or 29 week hiatus.

February 6, 2012
Giants Win the Super Bowl
J.D. Cook
There were mistakes and it was ugly at times, but the Giants proved there were the team of 2011 on Sunday and captured their fourth Super Bowl win.

February 5, 2012
Romney Wins Nevada
Big Blue Bullfrog
Mitt Romney wins the Nevada Caucuses by a substantial margin, putting him firmly in front for the Republican Presidential nomination.
February 4, 2011
The Oscar Nominations
Nick Galasso
It's been weeks since the nominations for the 84th Academy Awards were revealed, but I am still trying to prevent myself from retching in disgust each time I think of these nominations.
February 2, 2012
Kirby Krackle
Nick Larsen
Varying from ukuleles to electric solos, the nerd rock band, Kirby Krackle from Seattle is redefining this musical genre as a whole.

February 1, 2012
Florida Primary Wrap-up
Blaise Greco
The Florida Republicans have answered and they want their next president to be Mitt Romney.