For Me, It's the Best Rivalry in Sports
by Ric Albano
Today is an anniversary.
18 years ago today, on January 11, 1998, I attended the greatest live sports event of my life. The Denver Broncos and Pittsburgh Steelers met for the AFC Championship at Three Rivers Stadium. In the crowd that day were about 58,742 Steeler fans and exactly three Bronco fans – myself, my then 6-year-old son, and "the Barrelman". Walking in at about 9am through the very active tailgating crowd who grew especially animated at the sight of my son who was clad in my old bright orange Elway knock-off jersey which easily fit over his many layers of clothing and winter jacket. Before entering the stadium, my son's attire also drew the attention of some Denver area press and we ended up doing interviews with a couple of newspapers (Denver Post and The Rocky Mountain News) and my son was even broadcast live on a local Denver television station (I wish I'd remembered the call letters because it would be cool to see if that footage still exits). We even had a short conversation with legendary coach Joe Gibbs, who was then part of the NBC studio team. Yes, the sighting of Bronco fans in this sea of black and yellow was quite the spectacle.
Oh, and then there was the fun inside the stadium.
Before the game, we snuck down to the sideline seats in order to watch the warm-ups and got the honor of meeting the legendary "Barrelman" ,Tim McKerran. We then made our way to the cheap seats about 3 rows from the top of the upper deck corner in a section almost exclusively packed with die-hard Steeler fans. There was a couple sitting behind us with no colors on who whispered that they were actually Cleveland Browns fans, there to watch the the Steelers lose, but would not cheer for anything positive for the Broncos, lest they be discovered.
The game itself had its back-and-forths with Pittsburgh taking an early 14-7 lead but Denver responding with 17 points before halftime to go ahead 24-14 at the break. The good news was that most of the scoring took place in our end zone, so our crappy seats actually turned out to be pretty good. The second half was more tense and more sloppy, as the Steelers moved the ball well but turned it over several times, preserving the Broncos 10 point lead well into the fourth quarter. Then Pittsburgh quarterback Kordell Stewart finally led his team on a long touchdown drive
towards the far end zone, which absolutely electrified the crowd. The Broncos got the ball back with just under 3 minutes remaining and had the ball deep in their own territory, directly beneath us. The crowd got into an absolute frenzy with nothing but rotating "terrible towels" down the long funnel between our seats and the line of scrimmage. The Pittsburgh defense stopped two consecutive running plays, setting up a crucial third-and-long. One more stop and they would get the ball back with all the momentum and a chance to tie or win. The John Elway made one of his best passes of his storied career, threading the needle to hit Shannon Sharp down the middle. Within about 2 seconds, the decibel level went from about 110 to a quiet library and I swear mine was the only voice shouting at that moment. The Broncos ran out the clock to win the game and would go on to win their first Super Bowl two weeks later.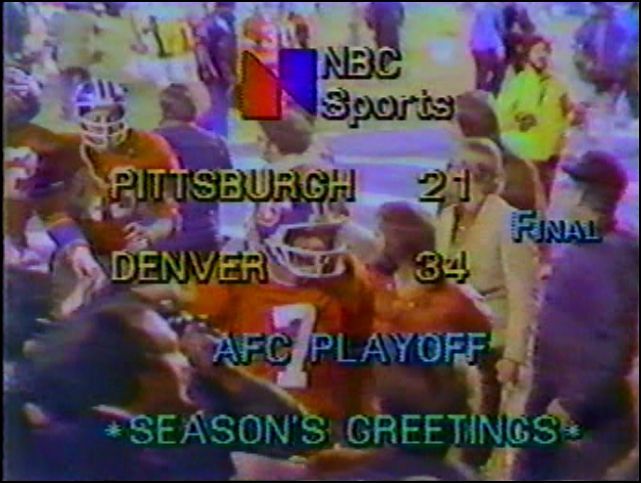 From a personal standpoint, this is rivalry holds a special place in my heart. The Broncos' first ever playoff game, which they won 34-21, was against the Pittsburgh Steelers at Mile High Stadium in Denver on Christmas Eve in 1977 and this also happened to be the first football game I had ever watched from end to end. I was in the fourth grade and many of my classmates and few relatives were die hard Steelers fans, so I decided to check out the game. Later, I caught an NFL Films piece on the "wacky" fans of Denver (Barrelman among them) and for some reason decided that I wanted to be one of them. Fifth grade was tough, as it was my first as an "openly orange" Broncos fan and could not find a sympathetic compatriot in my class, my grade, or my school. Heck, I did not even meet another Bronco fan face to face until about a decade later when Denver started going to Super Bowls again. Things only got worse when the teams met again in the playoffs and I boldly predicted a victory only to have Pittsburgh crush us 33-10 at Three Rivers Stadium.
Yes, this football matchup was starting to mean something big.
In the 1980s, the teams met twice more in the playoffs, both times in the Divisional round and at Mile High Stadium in Denver. The Broncos had a spectacular 13-3 season behind second year quarterback John Elway in 1984, but were shocking upset by the 9-7 Steelers an ouster from the playoffs. This nearly repeated in the 1989 playoffs but this time Elway led one of his famed last-minute comebacks to beat the Steelers 24-23, as the Broncos continued on their way to their third Super Bowl in four years. So in a sense, that AFC Championship Game in the late nineties was sort of a tie-breaker, as the Broncos vindicated their earlier home loss by winning at Three Rivers and took an overall playoff game lead 3-2.
But of course that game was not the end of it.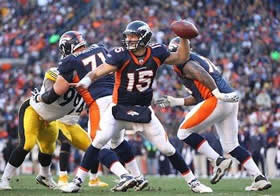 Fittingly (albeit sadly), both teams blew up their classic stadiums around the turn of the century and continued this rivalry and new structures built on the parking lots of the old. Ten years ago, the Steelers got their AFC Championship revenge by routing the Broncos in their new Invesco field, on their way to their fifth of six Super Bowl titles. (I wrote this 2006 article in anticipation of that game). Another memorable playoff game came following the 2011 season, as Tim Tebow had the finest passing game of his short career against the Steelers' top rated defense and the 8-8 Broncos scored a major upset against the 12-4 Steelers in an AFC Wildcard Game. With this, the Broncos regained the playoff lead 4-3. But beyond theses great playoff games, there has also been a plethora of great regular season games through the years, most notably Elway's first NFL game in 1983 and Peyton Manning's first game as a Bronco in 2012. Just a little over three weeks ago, these teams met in Pittsburgh with the Broncos taking a big lead into halftime only to have the Steelers roar back for a comeback victory which ultimately saved their season.
This Sunday, the teams meet in Denver for their eighth playoff game. Each team has a seasoned, Super-winning quarterback who ranks no lower than second all time for their respective team. However, both Manning and Ben Roethlisberger have had their share on injuries this year, which may well be Manning's last, so there is much uncertainty on both sides. No matter what happens, I will surely feel it to the bone whether it be the exuberance of a Denver victory or the agony of a defeat to Pittsburgh. In any case, this time I won't be celebrating or suffering alone as my wife and one of my three sons have become die-hard Bronco fans along with me. By the way, this is not the same son who I brought to that Championship Game 18 years ago. He grew up to be a New York Giants fan and started this website partly in their honor.
Go figure.
~