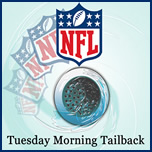 A weekly article during football season which take a critical look at the NFL. We do this from the base belief that NFL football is the greatest game in the history of mankind, but some recent policies and the overall direction of the league has chipped away at this greatness. Our primary goal is to spark debate on these subjects, so we encourage you to give your own opinion and leave comments.
All articles by Ric Albano unless otherwise noted.
Latest
December 22, 2015
In Defense of Odell Beckham, Jr.
A special blend of Giants Blog and Tuesday Morning Tailback by J.D. Cook following the NFL's suspension of Odell Beckham Jr.
February 3, 2015
There's Always a Bigger Fish
However, in a competitive environment it is important to have an undisputed "biggest fish". This is not to hate on New England, but do we really know that the best team won?
January 27, 2015
If I Was Commissioner
by J.D. Cook
A couple of short lists on how to easily fix some of the most controversial NFL policies as well as the weak sports media policies that are crumbling the integrity of the game.
January 20, 2015
Kill the Monster!
There are few things worse than a coach that refuses to coach to win the game in the playoffs. Green Bay's late game collapse against Seattle in the NFC Championship Game was setup by coaching decisions made earlier.
January 6, 2015
The NFL Is a Wreck
The playoffs are a very exciting time and, except for the Detroit-Dallas game, usually portray the NFL at its best. But this will only serve to temporarily mask the cracks in integrity underneath the surface of the NFL.
December 30, 2014
14 Things About 2014
As the 2014 regular season ends and we look forward to the 11 exciting games of the playoffs, Tuesday Morning Tailback presents a list of our highlights from the past season.


December 23, 2014
Trimming the Weeds, part 2
While several teams haven fallen out of contention, the final Sunday of the regular season will see three head-to-head showdowns for division titles.

December 16, 2014
Trimming the Weeds, part 1
Over the next couple of weeks, Tuesday Morning Tailback will examine the "weeding" out as the NFL works towards its dozen playoff teams.


December 9, 2014
Style Points
Unlike the highly subjective College system, the NFL has a solid tiebreaking system which has been quietly in place for decades and provides solid metrics for every possible scenario.

November 25, 2014
Trade Odell Beckham Now! After his catch for the ages, Odell Beckham's stock will never be higher than it is right now. This is why he should be traded right away.


November 11, 2014
Veteran's Day
Today we take a look at several of the NFL's top veterans by position, who are still performing at a high level in 2014.

November 4, 2014
Brutal Truths There are a lot of problems with the NFL but you won't hear them in the mainstream sports media.
October 21, 2014


Map of America Recently, Facebook released a map that visually displays county-by-county which are the most popular teams according to their members personal "Likes".
September 23, 2014

Wake Me Up When September Ends
Just as things have started to get interesting through Week 3, comes the plethora of bye-weeks to kill the momentum. So we've decided to take one also.
September 16, 2014


There's a Flag On the Play
Week 2 had a lack of quality football, only aggravated by the "flag happy" officials and the mounds of annoying, marginal penalties.
September 9, 2014

Drunk On Football
Between college and the NFL, there was such a saturation of action this past weekend that one comes out feeling drunk on football.
September 2, 2014

When 8 is Greater Than 606
After a record-breaking regular season and a total flop in the Super Bowl, the Denver Broncos enter the 2014 NFL season in the most unenviable position.
Navarim tlakac kukurice, poradne zakrmim moje-lekarna a jebnu tam splavek s mensim ponorem a to by bylo aby nebylo. Kupující to mohla mít už předepsaný akorát chtěla ušetřit Prodej Kamagra 100 mg v lékárně Praha v lékárně. Účinkuje cca po 1 minutách od užití a její účinek trvá 1 hodin.
Articles from the 2013 Season
That Stuper Bowl – Tuesday, February 4, 2014
That Pro Bowl Sucked – Tuesday, January 28, 2014
Class vs. Ass – Tuesday, January 21, 2014
The West Is the Best – Tuesday, January 14, 2014
Luck Does Not Suck – Tuesday, January 7, 2014
13 Things About 2013 – Tuesday, December 31, 2013
NFL Dead Zone – Tuesday, December 24, 2013
November's Champions – Tuesday, December 17, 2013
Great Football! – Tuesday, December 10, 2013
Good Football – Tuesday, December 3, 2013
The NFL On Thanksgiving – Tuesday, November 26, 2013
Houston, We Have a Problem – Tuesday, November 19, 2013
Cool As the Brees – Tuesday, November 12, 2013
2013 Midseason Report – Tuesday, November 5, 2013
Only Jerks Are "Competitive" – Tuesday, October 29, 2013
The Little Giants That Could – Tuesday, October 22, 2013
Hail To the Thinskins – Tuesday, October 15, 2013
I'll Be Back – Tuesday, October 8, 2013
In the Pitts – Tuesday, October 1, 2013
Schizophrenic Season Start – Tuesday, September 24, 2013
NFL Rat Culture – Tuesday, September 17, 2013
Northern Tears – Tuesday, September 10, 2013
2013 NFL Season Predictions – Tuesday, September 3, 2013
Articles from the 2012 Season
Nevermore – Tuesday, February 5, 2013
Why So Much Suck? – Tuesday, January 29, 2013
The Brothers Harbaugh – Tuesday, January 22, 2013
Kneeling Down On the Job – Tuesday, January 15, 2013
Those Shanahans Need to Be Fired! – Tuesday, January 8, 2013
Romo Is the Hero Dallas Deserves – Tuesday, January 1, 2013
The NFL on Christmas – Tuesday, December 25, 2013
Giant Goose Egg – Tuesday, December 18, 2013
Goodell Is Bad – Tuesday, December 11, 2013
Salivating Over a Tragedy – Tuesday, December 4, 2013
Dallas Is Dead – Tuesday, November 27, 2012
Alternate Uniforms Should Be a Bit More Alternate – Tuesday, November 20, 2012
The Dream Team – Tuesday, November 13, 2012
NFL 2012 Midseason Report – Tuesday, November 6, 2012
Dolphins Flying In the Sky – Tuesday, October 30, 2012
Parity or Mediocrity? – Tuesday, October 23, 2012
I'll Be Back – Tuesday, October 16, 2012
In the Alternative Universe – Tuesday, October 9, 2012
October Skies – Tuesday, October 2, 2012
Steve Sabol – Tuesday, September 25, 2012
Stop the Saints! – Tuesday, September 18, 2012
The Idiocy of Overused Acronyms – Tuesday, September 11, 2012
2012 Season Preview – Tuesday, September 4, 2012
TMT's "No BS" Challenge – Tuesday, August 28, 2012
Articles from the 2011 Season
Season Wrap – Tuesday, February 7, 2012
Losing Momentum – Tuesday, January 31, 2012
Goat – Tuesday, January 24, 2012
Hardy Har Harbaugh – Tuesday, January 17, 2011
Wildcard Weekend – Tuesday, January 10, 2011
B.S. and No B.S. – Tuesday, January 3, 2012
Unbalanced – Tuesday, December 27, 2011
One – Tuesday, December 20, 2011
Seven Reasons Why 2011 Is the Year Of the Quarterback – Tuesday, December 13, 2011
Cut It Out! – Tuesday, December 6, 2011
November's Champions – Tuesday, November 29, 2011
Crashing at Home – Tuesday, November 22, 2011
NFL Midseason Report – Tuesday, November 15, 2011
The College Scam (Part 3) – Tuesday, November 8, 2011
Prince Phillip – Tuesday, November 1, 2011
Cool As the Brees – Tuesday, October 25, 2011
Nicknames Suck, Let's Shake on It – Tuesday, October 18, 2011
Commitment to Excellence – Tuesday, October 11, 2011
The NFL's Soft Pink Underbelly – Tuesday, October 4, 2011
When The Roof Caves In – Tuesday, September 27, 2011
Polarizing the Football World – Tuesday, September 20, 2011
Consistency vs. Asininity – Tuesday, September 13, 2011
2011 Season Preview – Tuesday, September 6, 2011
$100 "No Bullshit" Challenge – Tuesday, August 30, 2011
Articles from the 2010 Season
A Study In Patience – Tuesday, February 8, 2011
Say Bye Bye to Sudden Death – Tuesday, February 1, 2011
America's Teams – Tuesday, January 25, 2011
The NFL – It's a Big Hit – Tuesday, January 18, 2011
Earth Shaking – Tuesday, January 11, 2011
Predictions. Predictions – Tuesday, January 4, 2011
Fire And Ice – Tuesday, December 28, 2010
Fly, Eagles, Fly – Tuesday, December 21, 2010