by J.D.Cook
It's been a rough couple of years since the Giants were last in the Superbowl. First we failed to qualify for the playoffs with a winning record of 9-7 in 2012. Then we had our first losing season in eight years in 2013. Finally things looked like they hit rock bottom last year when the team went 6-10. The Giants hadn't been that bad since Coughlin's first year as head coach. The worst part of watching these past three years has been seeing the team in situations the pre-2012 squad would have triumphed in. This isn't the same crew that could drive a game winner down the field for a win or get a defensive stop when it's necessary. That said there is hope this year.
Last night's game against the Cowboys was one of the most exciting Giant's games I've seen since their good years. Unfortunately, that all got washed away by one astoundingly stupid play. With 4th and Goal and needing a touchdown to put the game away, the Giants elected to…kick a field goal. The drive before Romo had proven virtually unstoppable and it was clear that he was going to be in a similar mode with the game on the line. Had the Giants went for it on 4th and goal and failed to get the score, Romo would have had 99 yards to drive. Instead the Giants not only kicked the field goal, ensuring Romo would be in a due or die scenario, and they also decided to kick the ball short in a bid to waste clock. When the kickoff was over the Giants had essentially spotted Romo 30 yards of field position. The rest is the stuff of Giants fan's nightmares.
Now about that hope I mentioned. Steve Spagnolo's Defense looked surprisingly spry. If his front four get some push they could make some serious noise. The offense failed to score but they converted on multiple 3rd downs and were without Victor Cruz, who will hopefully return soon. When he does the Giants might have an impressive offense. I don't think it would be crazy if the Giants ended up 9-7 this year but maybe I still have a bit of that season opening optimism.
Up next: The Falcons.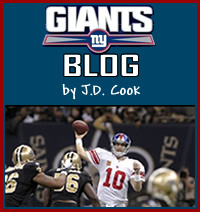 The Giants Blog is published every Monday during the NFL season while the New York Giants remain viable contenders (which in 2011 was right to the end and their Super Bowl championship). On the weeks when the Giants have a Monday night game, the blog will be published on Wednesday. The blogs are thoughtful (albeit heavily biased) analysis of the Giants' performance from our editor-in-chief and Giant fanatic J.D. Cook.
Other Sports Related Articles