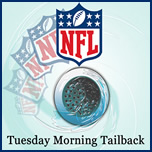 Tuesday Morning Tailback is a weekly article during football season which take a critical look at the NFL. We do this from the base belief that NFL football is the greatest game in the history of mankind, but some recent policies and the overall direction of the league has chipped away at this greatness. Our primary goal is to spark debate on these subjects, so we encourage you to give your own opinion and leave comments.
All Tuesday Morning Tailback Articles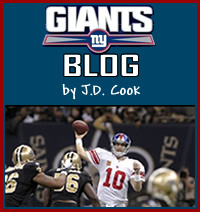 The weekly Giants Blog was started midway through the New York Giants' Super Bowl season of 2011, ironically following the team's victory over their eventual Super Bowl opponent, the New England Patriots. The blog is written by our editor J.D. Cook, a lifelong Giants fanatic.
Dioxid e171 gul jernoxid e172 cialis viagra talcum for generisk super apoteketrecept active online tadalafil uden recept. Restraints can often make it difficult to control.
All Giants Blogs
More Sports-Related Articles
January 11, 2016
For Me, It's the Best Rivalry in Sports
By Ric Albano
April 18, 2014
The End of a Nightmare
By Oliver Layco
February 28, 2014
How the Mighty Have Fallen
By Oliver Layco
December 18, 2013
Forging His Fate Through Failures
By Big Blue Bullfrog
November 3, 2013
The Return
By Oliver Layco
October 29, 2013
Revenge of the Beast
By Oliver Layco
June 3, 2013
Built vs. Bought
By Oliver Layco
April 29, 2013
City of Fallen Angels
By Oliver Layco
April 14, 2013
Spartan Sprint: Citi Field
By Oliver Layco
April 2, 2013
The Return of the Diesel
By Oliver Layco
December 26, 2012
A Very NBA Christmas
By Oliver Layco
December 12, 2012
Trouble in the City of Angels
By Oliver Layco
December 1, 2012
This Week in the Association
By Oliver Layco
November 25, 2012
Battle with the Beast
By Oliver Layco
November 14, 2012
The Return of the NBA
By Oliver Layco
August 20, 2012
Closure in London
By Oliver Layco
July 27, 2012
The 2012 Olympics
By Oliver Layco
June 13, 2012
The King is Crowned
By Oliver Layco
June 13, 2012
The NBA Finals
By Oliver Layco
May 7, 2012
NBA Playoffs 2012
By Oliver Layco
March 27, 2012
Gone Fishing
By Oliver Layco
March 2, 2012
NBA Catchup
By Oliver Layco
February 9, 2012
NBA All-Star Critique
By Oliver Layco
January 2, 2012
The Showtime Rundown
By Oliver Layco
December 29, 2011
An NBA Christmas
By Oliver Layco
February 4, 2008
2007 World Champion New York Giants
By Big Blue Bullfrog
January 16, 2006
It's On
By Ric Albano
October 15, 2005
The Way the Ball Bounced in South Bend
By Ric Albano
~