Latest
December 22, 2015
In Defense of Odell Beckham, Jr.
A special blend of Giants Blog and Tuesday Morning Tailback by J.D. Cook following the NFL's suspension of Odell Beckham Jr.
September 14, 2015

More of the Same?
The Giants looked great for 2 hours and 58 minutes last night but that last 2 minutes looked a lot like last year.
2014 Season
December 29, 2014

Giants 2014 Season Wrap Up
The Giants 2014 Season was a mess but there is always hope for next year.
November 9, 2014

Seahawks Rain On Giants
The Giants definitely had heart this week but it wasn't enough to beat the Seahawks.
November 4, 2014


Those Scrappy World Champions
A small tribute to the baseball team that shares the same nickname and for decades shared the same home field, as the San Francisco Giants win another world championship.
October 19, 2014

Sue Jerry Jones
The only positive in this game is that Jerry Jones might get sued!
October 15, 2014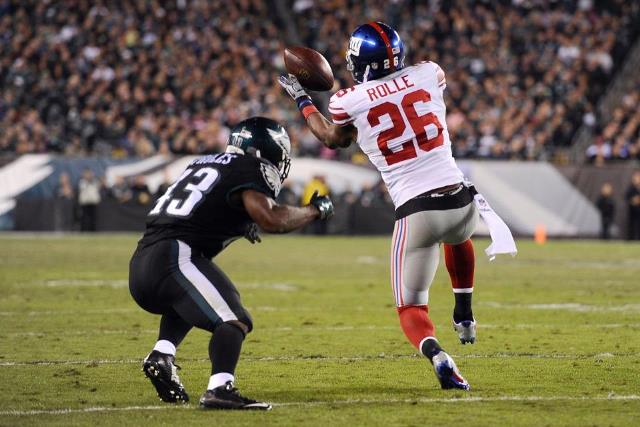 Zero Offense
The Giants looked bad but the offense looked like the worst part.
October 5, 2014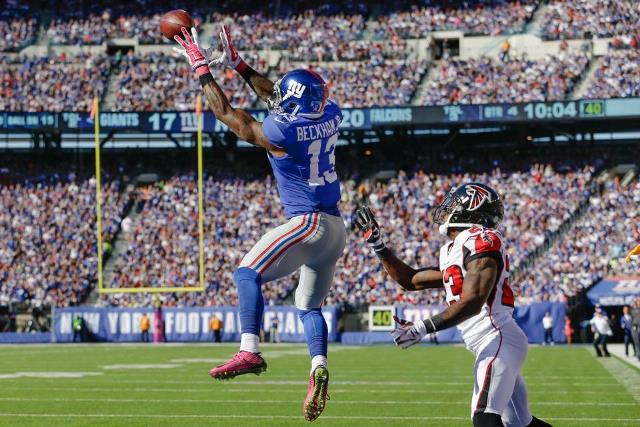 Giants Kirk those Fal-KHANS
The Giants obtained a bit of consistency while beating the Fal-Khans!
September 26, 2014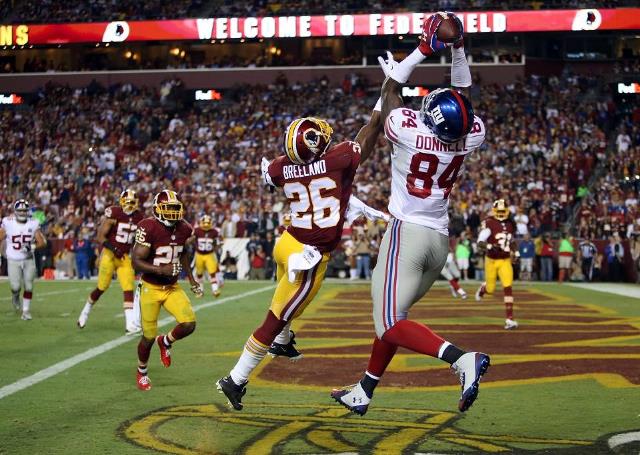 Giants Kick Ass
The Giants dominated the Redskins on Thursday Night Football. What more is there to say?!
September 21, 2014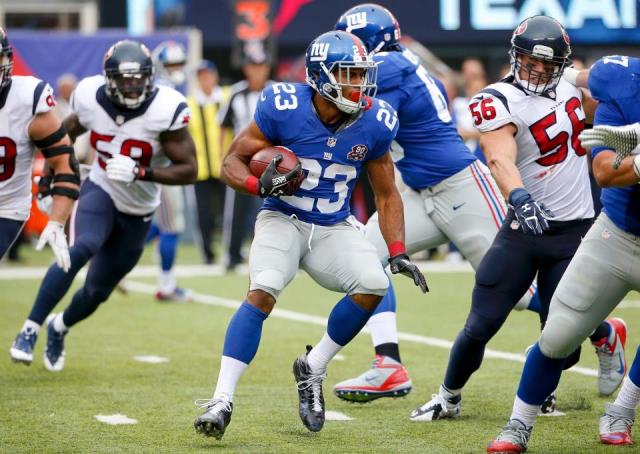 1st Giant Win
I said Don't Panic last week and this week the Gmen have their first win!
September 14, 2014

Don't Panic
A loss is a loss but the Giants improved in week 2 against the Cardinals!
September 8, 2014

Light Blue Lions Eat Blue Giants
The Giants opened their 2014 season by getting crushed in the Lions jaws.
2013 Season
December 29, 2013

Ugly Season Ends in Beautiful Victory
I don't like losing 6 games to start the season but ending it with a 2 game winning streak is fine.
December 22, 2013

Christmas in Detroit
It's been a dreadful year but an overtime win always puts me in a chipper mood!
December 15, 2013

Time for a Post-Season Purge
The last hope I had for the Gmen this season was that they would play spoiler against the Seahawks…they did not.
In fact they played their second worst game of the year.
December 8, 2013

Giants SHOCKED by Chargers
Ouch, it's all over now Baby Blue! Time to start thinking of next year…and maybe playing spoiler against the Seahawks.
December 2, 2013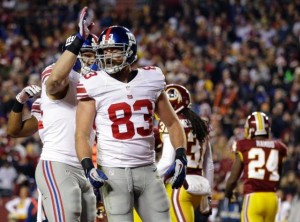 Giants beat Redskins and Dull Commentators
The Giants claimed their second victory in the division despite uninterested commentators more interested in next week's game.
November 25, 2013

Cowboys End Gmen Season
Well it looked promising for a bit there but the Giants are now essentially playing for the off season.
November 17, 2013

A Small November Classic
Four Wins! Is it time to believe in a Nine win season?
November 10, 2013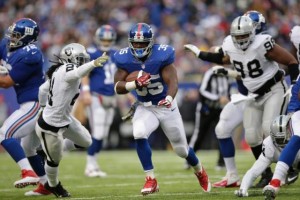 Raiders Raided
Well we got 3 wins…but it's still a long way to go
October 28, 2013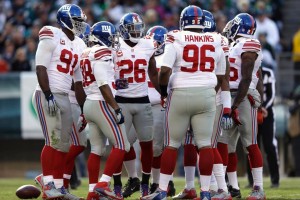 Dreams of Nine and Seven
Will the Giants actually manage to win the N.F.C. East or is 9-7 a Dream?
October 22, 2013


The Little Giants That Could
Can a team start 0-6 and actually make the playoffs? Unlikey? Yes. But if any team can make such an improbable run, it is the scrappy New York Giants.
October 11, 2013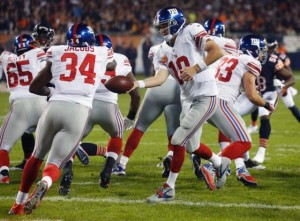 Just Win Gmen
J.D. Cook
The Giants need to return to basics for the rest of the season and JUST WIN
October 7, 2013

Different World
Ric Albano
How things have changed for the Giants and Eagles over the past few seasons.
September 29, 2013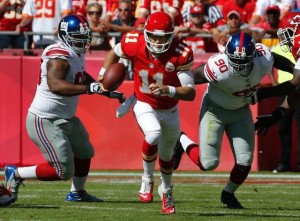 Chiefs of 0-4
J.D.Cook
The Giants season looks like burnt toast
September 22, 2013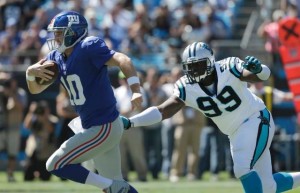 Giant Zero
J.D.Cook
Laughably bad football game ha Ha HAHA
September 15, 2013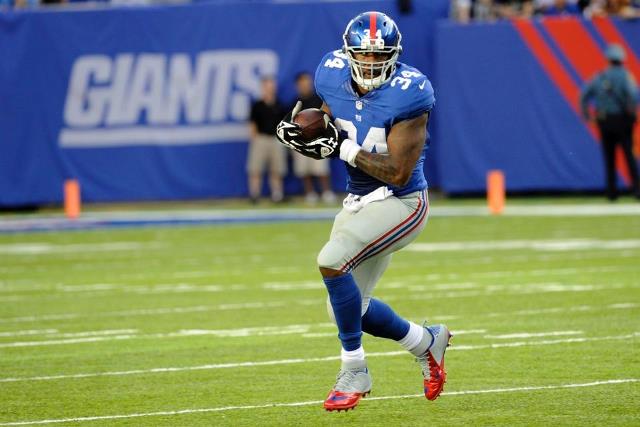 Broncos Break Giants
J.D.Cook
No real positives, this game was a mess.
September 9, 2013

Cowboys Given Giant Win
J.D.Cook
Not a great start to the season but there was some positives
2012 Season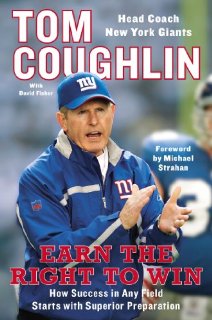 March 4, 2013
Tom Coughlin's
Earn the Right to Win
J.D.Cook

A short review of Tom Coughlin's new book on leadership,team building and how to be a more successful person.
December 31, 2012
Giant Finale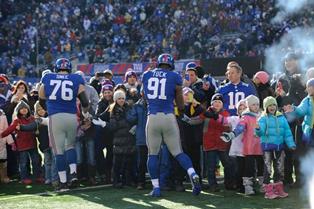 J.D.Cook
It's hard to feel bad when the Giants end the season on such a high note!
December 23, 2012
Not Last Year's Giants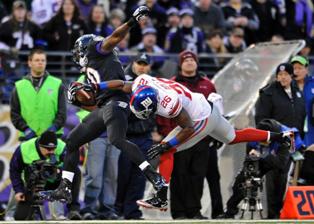 J.D.Cook
Devastating loss that knocked the Gmen out of the playoffs
December 17, 2012
Goose Egg

J.D.Cook
Nothing good about this game at all
December 10, 2012
No Saints in New York City

J.D.Cook
The Giants outplayed my wildest expectations; plain and simple
December 04, 2012
Giant Boreee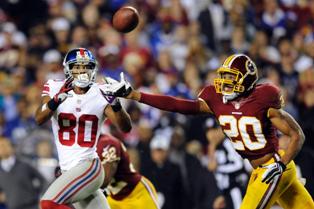 J.D.Cook
This game was all hype as neither team played with much excitement.
November 26, 2012
Giant Return

J.D.Cook
The Giants are back and so is the blog on it's regular Monday slot! Read our cutting edge analysis of this game and next weeks here!
November 12, 2012
Sandy Blows, Giants Suck
Sinclair Soul
We missed the Giants blog last week because of our displacement due to Hurricane Sandy, not out of sheer embarrassment.
October 29, 2012
Giant Heartstopper!
J.D. Cook
Yesterday I felt more heart fluctuation then in any of my romantic relationships. There were good euphoric feelings at first and then things got complex and convoluted before ending in shocking fashion.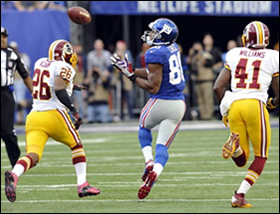 October 22, 2012
Don't Snooze On the Skins
J.D. Cook
Robert Griffin III has shown that flash is great, but grit is what the Giants are made of!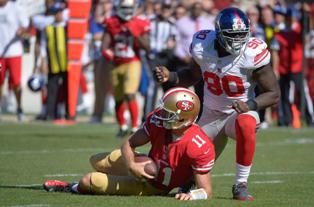 October 15, 2012
Giants Assert Dominance
J.D. Cook
Last week the offense won the game; this week it was the defense's turn
October 8, 2012
Giant Leash on the Browns
J.D. Cook
Dominating performance by the Giants despite stumbling out of the gate.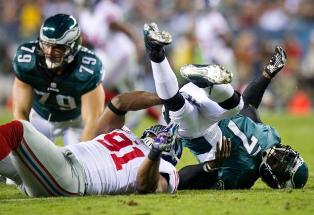 October 1, 2012
Taunted by the Birds
J.D. Cook
Frustrating defeat to an Eagles team that gave the Giants every opportunity to defeat them.
September 24, 2012
A** Kicken
J.D. Cook
Not much to say. The Giants took care of business in Carolina and silenced their doubters – for now.
September 17, 2012
Pirates Robbed
J.D. Cook
Eli Manning had 510 yards passing and the Giants overcame a two touchdown deficit to earn their first win of the season in true Bigblue style!
September 5, 2012
Opening Season Loss
J.D. Cook
Disgusting opening season loss to the Cowboys but their are positives. What are they you ask? Read the article to find out!
September 3, 2012

Giants Season Preview
Last season was very nearly a carbon copy of the 2007 playoff run and championship for the New York Giants, and for more than the obvious reasons.
Read Full Article
2011 Season
February 6, 2012

Giants Win Super Bowl!
There were mistakes and it was ugly at times, but the Giants proved there were the team of 2011 on Sunday and captured their fourth Super Bowl win.
Read Full Article
January 23, 2012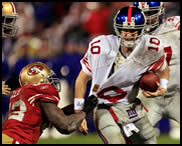 An Old Fashioned, Head-Knocking Game
Seldom does the NFL hearken back to its gridiron days anymore. Rules to promote the spectacle that is offense, and protect players have all but eliminated games like the Giants-49ers classic NFC Championship game of 1991, but wait…
Read Full Article
January 15, 2012

Giants Don't "Pack" It In
What can't I say about the Giants game against the Packers? Eli Manning continues to be the gunslinger I said he was a few weeks ago with the article The NFL's True Gunslinger. He is having a fantastic season and I hope it continues in San Francisco.
Read Full Article
January 9, 2012

Matty Iced
Much like every successful Giants season the defense is at the core of this team's success. Although the dominant front four only had 2 sacks they were in "Matty Ice's" face all day. The Giants next face the Green Bay Packers.
Read Full Article
January 2, 2012

Giant Foot On the Cowboys Throat
The Giants kicked ass this week against the Dallas Cowboys in the game that determined the NFC East title. There is really not much more to say about it.
Read Full Article
December 25, 2011

Referee Interference
I don't want to be that guy, but there were numerous bad calls in that game. Nonetheless, the Giants still pulled out a win with a suffocating defense in the second half.
Read Full Article
Isso acontece com um pequeno número de pessoas que tomam viagra ou nesse site outros medicamentos semelhantes ao sildenafila. Olá filipe, eu não sei como indicar idade.
December 19, 2011

One Last, Final Last Chance
How this team keeps blowing it against inferior teams at home only to get yet another "second" chance, is beyond me. This week will certainly be the Giants' last.
Read Full Article
December 12, 2011

Victory Is Sweet
Last night's dramatic 4th quarter win in Dallas sets up a likely showdown for all the marbles when the teams meet again New Year's Day, the final day of the regular season.
Read Full Article
December 6, 2011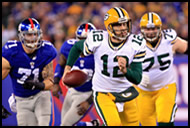 They Blew It
I don't see this week's loss to Green Bay as any kind of "moral victory". This was a game that the Giants could have and should have won at home.
Read Full Article
November 29, 2011


The Holiday Season
Just as sure as Santa Clause, you can count on the Giants Holiday Season collapse virtually every year of Coughlin's tenure. Consistency, whether good or bad, usually points to a team's coaching staff.
Read Full Article
November 21, 2011


Dreadful!
The pathetic performance Sunday against a divisional rival on the ropes, knocks the Giants off their privleged position to a spot where they'll really have to work to become NFC Champs.
Read Full Article
November 14, 2011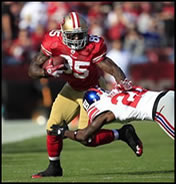 Clash Of the NFC Titans
The Giants faced the 49ers this past Sunday in a throwback to the glory days of the 1980s. This game would determine who is firmly in second place behind the Green Bay Packers in the NFC.
Read Full Article
November 9, 2011

The NFL's True Gunslinger
This past Sunday afternoon against the Patriots, Eli Manning proved once again that he can deliver when his team needs a score to tie or win the game. Giants fans were instantly reminded of the his heroics in Super Bowl XLII against the then-undefeated Patriots four years ago.
Read Full Article
~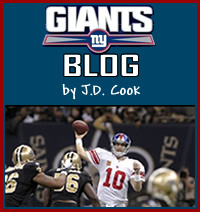 The Giants Blog is published every Monday during the NFL season while the New York Giants remain viable contenders (which in 2011 was right to the end and their Super Bowl championship). On the weeks when the Giants have a Monday night game, the blog will be published on Wednesday. The blogs are thoughtful (albeit heavily biased) analysis of the Giants' performance from our editor-in-chief and Giant fanatic J.D. Cook.
Other Sports Related Articles
ZergNet