February 5, 2013


Nevermore
And so it ends.
January 29, 2013

Why So Much Suck?
Now the sports media have their talking points for the week to stop any chance of real fans getting real Super Bowl pre-game coverage.
January 22, 2013

The Brothers Harbaugh
Baltimore Ravens coach John Harbaugh and San Francisco 49ers coach Jim Harbaugh will became the first brother to face-off as head coaches in the Super Bowl.
January 15, 2013

Kneeling Down On the Job
Nothing is worse than a coach who doesn't play to win. And this is especially true in the playoffs.
January 8, 2013


Those Shanahans Need to Be Fired!
It may have taken an entire season, but I think I've finally figured out why the constant use of "RGIII" by mainstream sportscasters and broadcasters has become such a burdensome thorn in my side.
January 1, 2013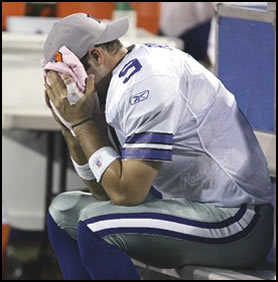 Romo Is the Hero Dallas Deserves
If I have to hear another excuse for the Dallas Cowboys, I'm going to ban sports media from my television.
December 25, 2012

The NFL on Christmas
A brief look at the short and unremarkable history of NFL games played on Christmas day.
December 18, 2012

Giant Goose Egg
The New York Giants have got to be the oddest world champions ever in the Super Bowl era.
December 11, 2012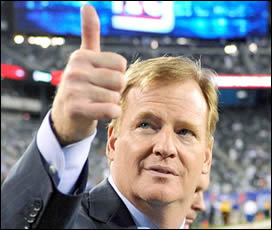 Goodell Is Bad
NFL Commissioner Roger Goodell is thinking about getting rid of kickoffs. Really?
December 4, 2012

Salivating Over a Tragedy
There was a tragic murder-suicide Saturday morning in Kansas City and the victim's families deserved an outpouring of sorrow and grief. But that would not happen in the sports media, where members would one-up each other in scoring political points with their left-wing bosses.
November 27, 2012

Dallas Is Dead
The sports media tries to resurrect the Dallas Cowboys as a "great" team every time they give the slightest whiff of being a coherent team.
November 20, 2012

Alternate Uniforms Should Be a Bit More Alternate
What used to be a bit of a novelty is fast becoming a downright embarrassment for some times who don ridiculous uniforms.
November 13, 2012

The Dream Team
With the worst record in the NFC and a current 5-game losing streak, it may be over for the Philadelphia Eagles as we know them.
November 6, 2012

NFL 2012 Midseason Report
The 2012 season has yet to live up to the excitement of 2011, but we do know is that there will be some surprises down the stretch which may yet make this a memorable season.
October 30, 2012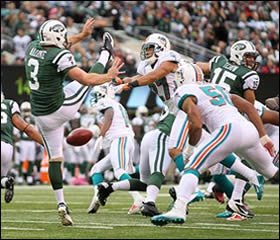 Dolphins Flying In the Sky
The Miami Dolphins defeated the New York Jets 30 to 9 on Sunday in the Jets home stadium. There was a lot of nervousness in the stadium because a hurricane was rapidly approaching.
October 23, 2012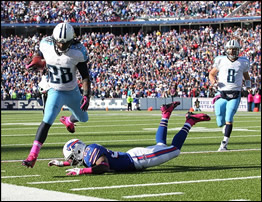 Parity or Mediocrity?
The NFL has long had a policy on parity as it is generally felt that games take on more importance when more teams have a legitimate chance at a championship.
October 16, 2012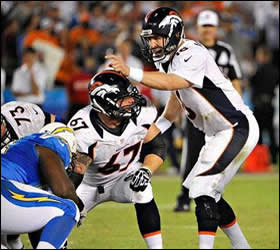 I'll Be Back
Peyton Manning is not done yet. This was point was absolutely clear when he led the Broncos to an incredible second half comeback victory against the Chargers.
October 9, 2012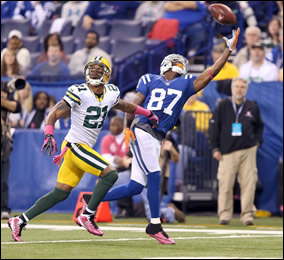 In the Alternative Universe
There is this growing trend of creating alternative universes to set up totally unprovable prognostications.
October 2, 2012

October Skies
The calendar has turned to October and there is daily evidence that summer is over and football season is truly here.
September 25, 2012

Steve Sabol
The NFL lost a true legend this past week. Although he never played a down, Steve Sabol and NFL Films did as much for the game as anyone else in history.
September 18, 2012

Stop the Saints!
The weird odyssey between the NFL and the New Orleans Saints took yet another absurd turn this past weekend when a replacement ref was pulled because he boasted of his loyalty on Facebook.
September 11, 2012


The Idiocy of Overused Acronyms
Robert Griffin III is a very talented rookie whose future looks bright with the Washington Redskins. His name is, however, so laborous that it must be shortened to the acronym "RG3″.
September 4, 2012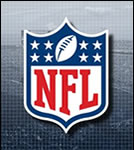 2012 Season Preview
Today, I'll put my own credibility on the line by making my own picks, division by division, and analyzing how these agree or disagree with the picks that all of you submitted last week.
August 28, 2012

TMT's "No BS" Challenge
Once again to kick off the NFL season, we are launching special challenge to readers to forecast who they think will be the 8 Division Champions at the end of this regular season.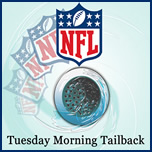 Tuesday Morning Tailback is a weekly article during football season which take a critical look at the NFL. We do this from the base belief that NFL football is the greatest game in the history of mankind, but some recent policies and the overall direction of the league has chipped away at this greatness.