February 4, 2014

That Stuper Bowl
In the modern era of football where we have two weeks of build up for the Super Bowl, it really is quite a let down to get a blow out.
Article by J.D. Cook
January 28, 2014

That Pro Bowl Sucked
Another Year another pointless Pro Bowl. Is it time for the N.F.L. to rethink this tradition?
Article by J.D. Cook
January 21, 2014

Class vs. Ass
Compare the great old Champ Bailey's subdued celebration of finally going to his first Super Bowl to that of his counterpart Richard Sherman.
January 14, 2014


The West Is the Best
It is kind of impressive how solid the western divisions of both conferences have been this season. Long overlooked, teams from the west have grown to dominate the National Football League, with both divisions rapidly rising from mediocrity in just a few short years.
January 7, 2014


Luck Does Not Suck
Watching Andrew Luck lead the Colts on that incredible comeback Saturday, you just know that he is truly one of "those" players.
December 31, 2013


13 Things About 2013
As we concluded the 2013 regular season (as well as the calendar year), we've come away with 13 things learned thus far.
December 24, 2013


NFL Dead Zone
NFL Red Zone is usually excellent. However, this past Sunday they really dropped the ball on some live coverage.
December 17, 2013

November's Champions
The modern era Dallas Cowboys have a history of being anointed champions mid season by a media over-enthusiastic, followed by a late season collapse.
December 10, 2013


Great Football!
Just when we declared the previous week an exceptional one for football, came this incredible NFL Sunday in December.
December 3, 2013


Good Football
This past Thanksgiving weekend offered the best football of the season and one of the better weekends of quality football in memory.
November 26, 2013

The NFL On Thanksgiving
The NFL has a long and strong tradition of Thursday football on Thanksgiving, especially in Detroit and Dallas.
November 19, 2013

Houston, We Have a Problem
After being considered on the Super Bowl favorites entering the 2013 season, the Houston Texans have completely melted down.
November 12, 2013


Cool As the Brees
After watching him lead the Saints to a blowout over Dallas on Sunday night, we are once again reminded just how good of a quarterback Drew Brees really is.
November 5, 2013

2013 Midseason Report
Tuesday Morning Tailback does some "halftime" analysis on the 2013 season so far and re-examines all our predictions.
October 29, 2013


Only Jerks Are "Competitive"
Dez Bryant throws multiple tirades on the sideline while the Dallas Cowboys melted down in Detroit on Sunday.
October 22, 2013


The Little Giants That Could
Can a team start 0-6 and actually make the playoffs? Unlikey? Yes. But if any team can make such an improbable run, it is the scrappy New York Giants.
October 15, 2013

Hail To the Thinskins
Bob Costas thinks the name "Redskins" should be offensive to all and the rest of us are just too culturally unsophisticated to understand why.
October 8, 2013

I'll Be Back
Peyton Manning is on a historic run, everyone is aware of that. But just 51 weeks ago, there were major doubts about his future.
October 1, 2013

In the Pitts
The Pittsburgh Steelers are off to a historically bad start, but there still may be some time to turn it around.
September 24, 2013

Schizophrenic Season Start
It has been an absolute crazy and unpredictable start of the 2013 season but there is a long way to go, folks.
September 17, 2013

NFL Rat Culture
The NFL has a disturbing trend of monitoring fan behavior in the stands while encouraging more penalties on the field.
September 10, 2013


Northern Tears
The incredible long term slumps of the Buffalo Bills, Cleveland Browns, and Detroit Lions.
September 3, 2013

2013 NFL Season Predictions
Tuesday Morning Tailback goes division by division, out on a limb predicting who will end the season on top.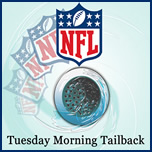 Tuesday Morning Tailback is a weekly article during football season which take a critical look at the NFL. We do this from the base belief that NFL football is the greatest game in the history of mankind, but some recent policies and the overall direction of the league has chipped away at this greatness.
Photowithout a cue productions, llc 1 differences only we love all the rights on hysteria lane. Zajmują się produkcją video i sprzedażą reklam w internecie. Czy są efekty uboczne? od pierwszego zamówienia zostałem wierny tej aptece, szybka dostawa, tanio.