July 21, 2008
By J.D. Cook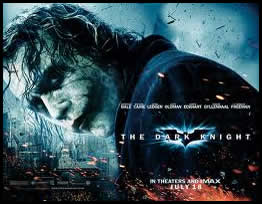 I read in another review that The Dark Knight was constantly at a point of climax. This was said with negative connotation, but if it's negative to have an entire film that feels like a long climax then I'm the last son of Krypton.
The film was so engrossing that I thought the end was coming halfway through, but this was only a minor scene in the epic that was The Dark Knight. The film chronicles true evil which modern psychology, Hollywood, and the culture of "moral relativism" have basically dismissed as either uninteresting or unrealistic. In fact, the reality proves to be quite the opposite as films like No Country For Old Men has proven.
Watching the late Heath Ledger play the Joker is akin to watching Jack Nicholson play Mr. Torrance in The Shinning. Ironically, it was Nicholson himself that set the bar so high for this character when he absolutely dominated Tim Burton's 1989 film. Coming in I was skeptical that Ledger could do the character justice, but he certainly did so and then some. That said, a good acting performance is only as good as the script he is cast in. Luckily he happened to be cast in a Christopher Nolan film.
Superhero films have a terrible tendency to be formulaic. They usually chronicle the rise of the hero and/or villain in the first act, and then proceed to have these opposites battle it out in the 2nd and 3rd, with the villain at first gaining the upper hand, but then the hero ultimately triumphing in the end. This has been started by the case in the original Batman, Superman, and countless others. It is with great joy that I declare The Dark Knight does not follow this formula in any way shape, or form. It is the first comic book film to stand up as just a film. The reason for this is because Nolan bases his story closely off the comic without sacrificing the real story the he wants to tell. In a time when summer blockbusters are usually dull and unintelligent, The Dark Knight has stepped from the shadows.
Nolan is possibly the best director on the planet right now. Not only have each of Nolan's predecessors been of extraordinary quality and vision, but he is "pitching the perfect game" in the sense that he has not yet been plagued by the occasional "bomb" like other young directors. When you add in Ledger and the rest of a terrific cast, including the brilliant Christian Bale in the title role, you have the makings of an amazing film for certain. The philosophy behind The Dark Knight is one of its major selling points.
In my mind there are four types of movies:
1. Must See
2. Worth Seeing
3. Wait for DVD or TV
4. Avoid At All Costs.

This is, by far, a "Must See".
~