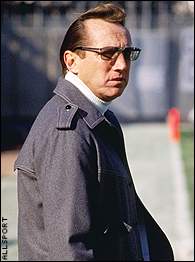 The NFL lost a true rebel this week when Raiders owner Al Davis died on Saturday. If you've paid attention to the blitz of coverage on Davis' passing, you will have heard his long list of accomplishments – coach, general manager, commissioner, owner, Hall of Fame inductee. This alone puts Davis in a unique place in NFL history, as there has been no one, with the possible exception of Paul Brown, who has such a ladder escalating career. But what truly made Al Davis an original was his fearlessness in making unpopular decisions.
As AFL Commissioner in the late 1960s, Al Davis believed that his league would someday surpass the NFL in popularity and prestige. This opinion was not widely shared by most football analysts so when opportunity for merger came along, Davis was shut out of talks by the rest of the AFL owners who really only wanted acceptance by the establishment.
Once in the NFL Davis committed his team to excellence, winning the AFC West six of their first seven years there with a Super Bowl Championship following the 1976 season. Those teams were lead by quarterback Ken Stabler, an immensely popular player in Oakland. However when Stabler held out for a better contract in 1980, Davis promptly traded him to Houston, a move that was considered foolhardy by the football intelligentsia. The Raiders went on to win another Super Bowl that very year.
In 1988 Davis hired Mike Shanahan from the Denver Broncos as head coach. After just a season and a few games Shanahan was fired and replaced by longtime Raider player and assistant coach Art Shell. As Davis put it at the time, "we needed a Raider at the helm…I never felt comfortable with an outsider…". What Davis did not note at the time (but, of course, scores of reporters did) was that Shell was the first permanent black head coach in the NFL. There was no Rooney rule which compelled Davis to interview a minority, he just went with who he thought was best for his team without any concern for "social conscious" bullshit. Davis also hired and won two Super Bowls with the first "Latino" head coach Tom Flores, although I don't know if that fact was ever brought up until recent racialist face counters pointed it out.
Not all Davis' rebellious moves were wise. Chief among these was the move to Los Angeles which set off a decade and a half of owners migrating teams all over the place. But Davis was the only one of these owners to tacitly admit his mistake when he moved the Raiders back to Oakland in 1995.
By all accounts Davis loved his team completely. This week, current quarterback Jason Campbell, who was probably the 30th starting quarterback for the Raiders under Davis, stated that the owner called him every single week just to see how he was doing. Hands on and committed right until the end.
~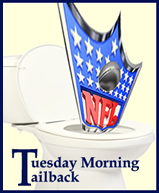 Tuesday Morning Tailback is a weekly article during football season which take a critical look at the NFL. We do this from the base belief that NFL football is the greatest game in the history of mankind, but some recent policies and the overall direction of the league has chipped away at this greatness. Our primary goal is to spark debate on these subjects, so please leave your own opinion on this article in the comment box below.