The College Scam, Part III
November 8, 2011
By Tuesday Morning Tailback
NOTE: This is part three of a global, multi-author, three-part series of which the first two parts have not yet been published. What? Neil Peart did it with the "Fear" trilogy!
Breaking new ground, the Tuesday Morning Tailback will descend from our NFL pedestal to examine college football. We regularly gripe about the NFL and how some of its recent policies are dissolving the great game of professional football. But compared to the sad state of college football, the NFL is the shining city on the hill.
This past Saturday, college football fans were "treated" to the colossal battle between #1 ranked LSU (Louisiana State University) and #2 ranked Alabama, an extreme rarity that this would happen late in the regular season. The game's broadcast on CBS received the highest ratings since the late 1980s for this much anticipated showdown. The actual game sucked.
LSU won 9-6 in overtime in an inept battle of field goals, field position, crucial mistakes, a plethora of punts, and terrible coaching. LSU was the beneficiary of four missed field goals by the Alabama kicker as well as the absurd decision by Alabama head coach Nick Saben to let the clock run out when his team got the ball with nearly two minutes left and two timeouts with the game tied. Despite the terribleness of this game, the next morning some analysts on ESPN were already pining about a possible rematch in the National Championship. (No !!!)
To further insult to our collective intelligence, on Sunday night the BCS Standings were released with Alabama still seeded ABOVE two undefeated teams, Stanford and Boise State. But should this really surprise us?
The BCS (Bowl Championship Series) was established in 1998 to avoid the controversy of a "split" National Champion based purely on polls. But the BCS has failed miserably on several occasions since. In 2004, two undefeated and untied teams (Auburn and Utah) were excluded from the National Championship, both of which went on to win their major bowl games. Further, USC, which played and won that year's championship game, was later deemed ineligible and their championship was vacated by the BCS. Later in the decade, Florida won two National Championships during seasons when they lost one game while a team went undefeated that same season and was not considered for the championship by the BCS (Boise State 12-0 in 2006, and Utah 12-0 in 2008). Boise State went undefeated again in 2009 but were, again, were not invited to the championship game, and it appears like 2011 will bring a similar result for that team.
The Boise State Broncos are a unique and exciting team that plays on an odd blue field and has a phenomenal fan base. Their upset of powerhouse Oklahoma in the 2007 Fiesta Bowl is one o the all time classic games in College Football history. Yet this brought that program no new found respect as they were not invited to the National Championship in 2009 and, in 2010, they were relegated to the Maaco Bowl despite losing only one game by three points in overtime. The media's justification for this constant "slighting" of Boise State is that their schedule is decidedly weaker due to playing in the Western Athletic Conference (WAC).
But Boise State has shown a strong willingness to play any "major" school, anytime, anywhere. For the past three seasons (2009-11) the Broncos have played and won against Oregon, Virginia Tech, and Georgia respectively, and none of these contests were held at their home blue field (a venue where no major school would dare schedule a game). Instead, these major schools schedule early season "cupcakes" to play at home in front of their own crowd and avoid up-and-coming teams like the plague knowing such scheduling will never effect their own BCS opportunity.
The solution here is quite simple – a balanced schedule for all schools, a playoff system to accommodate, all the top teams, and a set of tie-breaking rules to determine who gets to play in these playoffs. BUt this will not happen due to the corrupt nature of the larger schools and the bowl system.
So for true football fans like myself, interest in College Football grows weaker and weaker every season. I'd really like to know the players better as they come up to enter the NFL but, can't bring myself to watch more of this sham.
~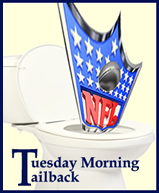 Tuesday Morning Tailback is a weekly article during football season which take a critical look at the NFL. We do this from the base belief that NFL football is the greatest game in the history of mankind, but some recent policies and the overall direction of the league has chipped away at this greatness. Our primary goal is to spark debate on these subjects, so please leave your own opinion on this article in the comment box below.