"Do They Know It's Christmas?"
by Band Aid

Listen to the Song:
[audio:10_DoTheyKnowIt'sChristmas.mp3]
Sure, it is outrageously corny. Especially when you are watching Boy George and other eighties has-beens singing next to the likes of Bono and Sting. But underneath all the silliness lies a pretty good song, written in a decent style of British new wave.
For those of you who do not know, this song is the brainchild of Bob Geldof. He was the lead singer of the Boomtown Rats and played the starring role of "Pink" in the movie version of Pink Floyd's The Wall. In late 1984, he co-wrote this song along with Midge Ure, and then they brought together these top-notch English musicians to perform "Do They Know it's Christmas" under the name Band Aid as all proceeds went to relief for the Ethiopian famine of 1984-1985. The success of this single eventually lead to the worldwide benefit concert Live Aid, the following summer.
All that aside, let's explore the song separately from its noble intentions.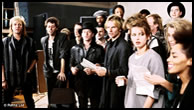 Hearing a bunch of well known musicians singing together is pretty cool. The lyrics are simple enough as they call attention to the fact that there is a world outside of the one we live in. The refrain "feed the world, and let them know it's Christmas time" does a good job of getting Band Aid's point across. It's a pretty fun pop song to listen to during the holiday season and it holds up surprisingly well. Even Boy George sounds pretty good when he sings, "And in our world of plenty, we can spread a smile of joy". It is a solid number ten.
~