Uncharted 3 Collectors Edition
December 17, 2011
By Oliver Layco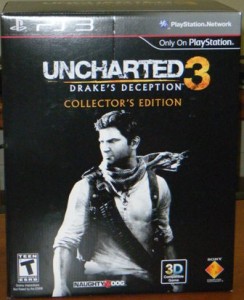 I never had a series where I really wanted the collector's edition. I just never got attached to a series in that way. The Uncharted series has changed my mind, and I don't regret it at all. When the box came in the mail, it was pretty massive. I opened it up, and it was nothing like I expected. The box that's holding the main container has images of Drake all around. Then inside this is the main chest.
Although it's made of cardboard, it looks like something you could see in an Indiana Jones film. Inside the chest there are three additional items from the game. First, there's the belt buckle that Drake has had throughout the whole series. While being a perfect replica, I don't have a belt to put this on so that has been the only downside of this item. The second extra item is the ring that he has had around his neck. Once again, it looks exactly like it does in the game; there are inscriptions on both the inside and outside of the ring and it hangs on a little rope. I wear this one quite extensively, so I feel like I got my money's worth.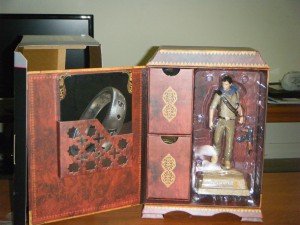 Third, there's a 6" figure of Drake that has him in his costume from Drake's Deception. The detail that was put into him is pretty good. The gun in his hand can be taken out and so can the bandolier. Lastly, there's the game itself. It comes in a metal game cover that looks awesome. On the front is the ring and on the back is a symbol from the game. It's a nice final touch to the whole setup. Overall I would say his is a really good collector's edition worth the extra cash.