The media sucks, blah, blah, blah. Yes, it is one of the favorite refrains of this column and repeating it may be tiring for you regular readers. But, let me get it out of the way and then turn towards more positive themes. Despite the Denver Broncos having a 12-3 all time record at home in the playoffs, the Steelers were picked by everyone, bar none, with many predicting a victory of 14 points or more. Really? Of course coming into Sunday's game, Tim Tebow could not play quarterback (again). No (again) he is a phenom. As was pointed out here in our Cut It Out! article a month ago, most of the media really can't see beyond the past week when giving their analysis. How can anyone take them seriously?
Now to the good stuff.
This past weekend was a very special weekend of football in my household, one that may never be matched again. As I've stated before, I am a lifelong (well, 35 year) Denver Broncos fan. In those three and a half decades, the Broncos had neither suffered a six year playoff drought nor a season as bad as last year's 4-12 debacle. So coming into this season, the Broncos were at the nadir of success in my observing years. To make the playoffs was a great accomplishment for this team, even if they did not do it in a dominating way. To play the Pittsburgh Steelers in the playoffs is another very special occasion for me. I won't get into that here, as I wrote an extensive piece in 2009 called Eleven Years To the Day, as well as an article previewing the 2005 AFC Championship called It's On.
I have three sons, the oldest being J.D. Cook, (editor of this site) whose favorite team is the New York Giants. I also have fourteen-year-old twins, one of which is a Detroit Lions fan, while the other followed in my footsteps as a Broncos fan. So this past weekend was setup beautifully, with all of our teams in competition and playing in separate games. We could each add our support for each others teams, and two out of three pulled through for us. The Lions fell to the Saints but the Giants and Broncos defeated the Falcons and Steelers respectively. Looking back, the only time both the Broncos and Giants were still alive in the divisional round was a quarter century ago, after the 1986 season (when they'd meet in the Super Bowl). That was before J.D. Cook was born. Pretty cool!
So we have another great weekend to look forward to, with the Broncos going to New England and the Giants going to Green Bay. Both of our teams are heavy underdogs on the road against excellent teams, right where we want to be. Sometimes things just work out great, but we'll see where we stand next week.
One last thing. As I'm never shy about promoting my own accuracy, I must say that six of the starting eight quarterbacks this weekend were featured in my Seven Reasons Why 2011 is the Year of the Quarterback article four weeks ago, with Cam Newton being the only quarterback not still in competition. Pretty cool!
~
Ric Albano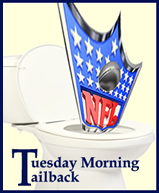 Tuesday Morning Tailback is a weekly article during football season which take a critical look at the NFL. We do this from the base belief that NFL football is the greatest game in the history of mankind, but some recent policies and the overall direction of the league has chipped away at this greatness. Our primary goal is to spark debate on these subjects, so please leave your own opinion on this article in the comment box below.