A Cookie to Satisfy Your Sweet Tooth
January 26, 2012
By Victoria Abrego
A Recipe for Nutella Double Chocolate Chip Cookies
These make great "Thank You" gifts; all you have to do is place four or five in a small bag and tie it with a bow. They are also great to have around the house so that whenever you get the urge to have something sweet you can grab a cookie and a glass of milk to go along with it. I wish you the best of luck with this recipe and all others.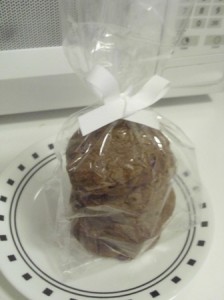 Ingredients
2 sticks (1 cup) unsalted butter, cubed
1¼ cup sugar
2 large eggs
½ cup dark cocoa powder
¼ cup nutella
2¼ cups all-purpose flour
¼ tsp. salt
1 tsp. baking powder
2½ cups semi-sweet chocolate chips
½ cup pecans or any other nut you want (optional)
Steps
Preheat the oven to 350 degrees.
In a large bowl combine butter and sugar, mix until fluffy.
Add in eggs, one at a time, mixing well between each egg.
Mix in cocoa-powder, well.
Mix in Nutella (at this point the dough will become really thick you might want to change form mixing it with a whisk to mixing it with a spatula).
In another bowl combine flour, salt and baking powder, add this mixture (a third at a time, mixing well with each addition) to the chocolate mixture.
Fold in chocolate chips and nuts.
Roll a spoon full of the dough in your hand and flatten, to form a disk shape. Place each disk about 2 – 3 inches away from each other.