March 26, 2012
By J.D. Cook
On March 21st I journeyed into the heart of Manhattan with nothing but my wits to protect me. Why did I adventure into this variable heart of concrete darkness? To meet the king of Indy films himself!
Kevin Smith, the man who made Clerks, Dogma, Chasing Amy, Jay and Silent Bob Strike Back, and Clerks II, just to name a few. This is a man who came from New Jersey and made it huge! A true success story that nerds like myself can stand behind and say, "HEY SEE WE CAN DO IT TOO!" He was promoting his new book Tough Sh*t (which can be purchased here), in which the director takes the reader through some big moments in his life, explains how he managed to make ten movies with no discernible talent, and why he decided to blow up his own career.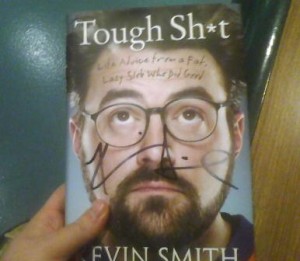 I arrived at five to find a small line awaiting his presence. My friend was in the front row due to advanced seating (bastard!). As I waited, I tried to think of what the hell I was going to say to the man when he signed my book. Would I laud him for the films he made that I liked? Could I possibly have the guts to throw my few criticisms of his films at him? I sat and skimmed a few pages of his book as I passed the time awaiting his appearance. I also tried to figure out a way to strike up a conversation with the knock out sitting next to me. I waited for my opening patiently as she transitioned from reading his book to playing on her phone. Finally a guy walked past us and snuck into the front row. This was my chance! I took it and said, "Man that guy's got the right idea!" I made sure it was loud enough for her to understand it was a comment directed at her. My plan was that she would reply to this and thus the door for a conversation would open. Unfortunately she simply nodded and went back to her iphone. My dreams were crushed before they could even take off.
Kevin Smith arrived and he couldn't have been any more awesome. He did a question and answer session first, which was hilarious before we organized into a line to get our books signed. My nervousness over what to say was erased as I realized that this guy was the real deal. He was a New Jersey nerd who struck film gold. I never had so much confidence in my own ability to succeed as that night. Empowered, I asked the girl behind me to have a passionate love affair with me right there! And she accepted! We are now dating and things are perfect. I also called up a publishing house and demanded they publish my book which they had never read. They also accepted! Ok so neither of those things happened, but my point was that seeing Kevin Smith really inspired me.
Finally after waiting in line I met the man himself. First, I must commend him on being one of the greatest celebrities I've ever seen. He put on a big smile for every fan, hugged them, and then started a conversation with them like an old friend. In my case he said "I love your shirt, my friend wore it his entire adult life," in reference to the Dark Knight Returns shirt I was sporting. I replied with "thanks, I loved that you mentioned the Angelica Theater in your book!" To which he said, "Yeah that place is awesome I was just there the other day!" Then I said good bye and walked away to find that my picture with him had not actually been taken by the camera guy – play the violin.
Now I headed home still feeling pretty good about meeting Kevin Smith but there was a land mine lying in my path. Occupy Wall Street had moved into Union Square. I'm not sure if they blocked the R train or if something happened down there in that pit of death, but I could not board the train and had to walk down to the eighth street station. Unfortunately, after I was aboard this train of the underworld I was told that it was going to divert over the Manhattan Bridge instead of heading to the South Ferry.
So I quickly abandoned ship and found myself in Chinatown. Fog consumed the city and, as such, I could not make out a single New York City landmark. I was forced to walk in a giant circle while avoiding the shadier folks out and about in the city. Finally I reached another train station and it was here I ferried passage to the Ferry home. Due to that darn fog and a crazy taxi driver I didn't get home until 12:30 A.M! My adventure complete, I journeyed to the land of sleep.
What did I learn via this adventure? Determination and will can do anything. Even if it is to just get back home.
~