by Tuesday Morning Tailback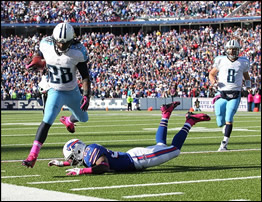 The NFL has long had a policy on parity as it is generally felt that games take on more importance when more teams have a legitimate chance at a championship. In the late 1980s, the NFL changed its scheduling method by giving teams with better records tougher opponents in order to foster competition. I remember Frank Gifford openly asking on Monday Night Football "What will the NFL do when all teams finish 8 and 8?" to which New Yorker Howard Cosell promptly answered, "the Giants and the Jets". Well, Cosell's vision was nearly realized last season when the Giants and Jets met on Christmas Eve, with the Giants victory ultimately putting them in the playoffs at 9-7 and knocking the Jets out at 8-8. The Giants then went onto become the NFL champion with the lowest regular season winning percentage ever.
This year parity continues, especially in the AFC. Coming into this past weekend, there were only two teams in the entire conference with a winning record, the very first time that has ever been the case beyond the first week of the season. The entire AFC East entered the week with all four teams in the division at 3-3.
While the NFC has more disparity in records, there's only one team (the 6-0 Atlanta Falcons) with a stellar record as the "big three" from last year – the Giants, Green Bay, and San Francisco – each have at least two losses.
With each team having either nine or ten games remaining, there is plenty of time for this year's cream to rise to the top and reach their stride in the second half of the season, so I don't expect another 9-7 team to win it all. In any case, we know 12 teams (6 from each conference) will make the playoffs and 2 of those will reach the Super Bowl. At this point in the season, probably 25 of the 32 teams still have some shot of getting there in the end. In this sense, professional football is far, far superior to college football, where all of the "legitimate" teams are determined by sports writers in the pre-season. So from that perspective, parity is far superior to mediocrity.
~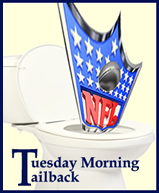 Tuesday Morning Tailback is a weekly article during football season which take a critical look at the NFL. We do this from the base belief that NFL football is the greatest game in the history of mankind, but some recent policies and the overall direction of the league has chipped away at this greatness. Our primary goal is to spark debate on these subjects, so please leave your own opinion on this article in the comment box below.