Nov 13 2012
by Tuesday Morning Tailback
I wrote my first ever Tuesday Morning Tailback article on Tuesday, December 21, 2010 called Fly Eagles Fly, which mocked the over-the-top media adoration of the Philadelphia Eagles and quarterback Michael Vick after a dramatic late season comeback against the New York Giants. At that moment, the Eagles were considered the "clear favorite" in the NFC but they promptly went on to lose three straight home games (including the wildcard playoff game) and an early exit from that season. This was something I predicted at the time and proudly gloat about now. It was also "Exhibit A" on out-of-control media hype, as many jumped on the Michael Vick redemption bandwagon.
But the hype around the Eagles is not totally media driven. During training camp the following July (2011) newly-arrived backup quarterback Vince young declared Philadelphia to be a "Dream Team", due to the addition of several highly sought free agents such as Nnamdi Asomugha, Dominique Rodgers-Cromartie, Johnny Lee Higgins, and apparently himself. It was one of those moments that you just knew would come back to bite this team, and it did as the Eagles had a very mediocre season and failed to even make the playoffs. Adding insult to injury, divisional rival New York Giants went all the way to win the Super Bowl making the score within the NFC East:
Other 3 teams in the NFC East – 12 Super Bowl victories, Philadelphia Eagles – zero.
Still, this team really felt they were something special, During this summer's training camp, Vick declared that the Eagles have the potential to be a dynasty. Now, I'm no genius, but doesn't "dynasty" mean multiple championships? And doesn't a team need to win ONE championship before they can win multiple? Vick justified his comment by what his team has "on paper", but as sports reporter D.J. Gallo observed about the "on paper" comment;
The Eagles and Cowboys will be the best teams. Same as every year. Don't step in the way of these dynasties or you will get run over. Or at least receive a very nasty papercut."
Naturally, this season has been another disastrous one for the Eagles. With a record of 3-6, tied for the worst in the entire conference, and a current 5-game losing streak, it may be over for Vick and longtime head coach Andy Reid, and the team overall looks to be heading back to rebuilding phase one.
Does anyone have a nickname for that?
~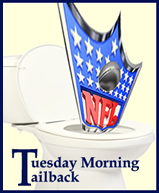 Tuesday Morning Tailback is a weekly article during football season which take a critical look at the NFL. We do this from the base belief that NFL football is the greatest game in the history of mankind, but some recent policies and the overall direction of the league has chipped away at this greatness. Our primary goal is to spark debate on these subjects, so please leave your own opinion on this article in the comment box below.