This Week in the Association
by Oliver Layco
Amidst the chaos that is Thanksgiving and now preparation for Finals, I have finally caught a break to be able to write this little thing up. Much has happened around the league these past few weeks. The Knicks have been a surprise team so far, while the Lakers have been a surprise for different reasons. Controversy has clouded a recent decision by Greg Popovich and the Spurs. Then those teams in the middle of each Conference are highly entertaining this far in the season.
As for those New York Knickerbockers, they continue to consistently pace themselves each game this season. Obviously, they weren't going to keep up their stellar play that had them as the previously, lone unbeaten team in the league; but they are still keeping up the same intensity. Their first loss came against the surprising league leading Memphis Grizzlies. They recovered for awhile against Indiana and New Orleans, but it waned in recent games against Dallas and Houston. It was apparent more in that Houston game more when Jeremy Lin faced off against his former team. While Lin himself didn't have an amazing game, finishing with 13 points, the Rockets showed the potential their team has. With Amare Stoudemire still recovering from an injury, the Knicks hope to put themselves in good position while they await his return. There are fears that Stoudemire could mess up the flow that they are on right now, and with that Amare has stated that he would willingly come off the bench to figure out his role. Also, the subway rivalry between the Knicks and Nets officially kicked off this past Monday. Unfortunately for the Knicks, they weren't able to claim the first battle for New York.
Brooklyn has been doing extremely well so far. Recently, they have pushed their way up to leading the Atlantic division and earning the second seed in the East. For me, their tough energetic way of playing is the embodiment of Avery "Little General" Johnson. Recently, however, they were involved with the leprechauns from Boston. There was a
good hard foul by Kris Humphries on Kevin Garnett, and Rajon Rondo took offense to that and initiated a scuffle between the two teams. While I don't side with Rondo on this fight, I was surprised to see the 6' Rondo push the 6'9" Humphries around like that. Both players would be ejected along with Gerald Wallace, and Rondo would receive a 2 game suspension from the league afterwards. The other surprising thing was that this all occurred during the second quarter! If it were a close game in the fourth quarter, I think the reaction from outsiders would be better. Unfortunately for Rondo, his ejection would end his streak of games with 10 or more assists at 37 games.
Meanwhile in the West, the Lakers have had a disappointing season this far in. While there are 82 games in a season, the high expectations that Laker fans have make anything besides a Championship are considered a failure. Under Mike D'Antoni, they are currently 8-8. While that would be a decent record for most other teams in the league, that is a failure on their part considering who they have on their roster. Personally, consistency has been my main issue with them so far. With four guaranteed Hall-of-Famers on their roster, the expectations are sky high for them. Kobe is the only one playing up to his legendary status; Nash has been injured for the better part of the season; Pau has been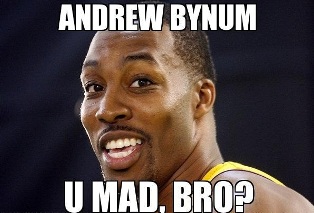 the leader of the inconsistent club; Howard is Pau's co-captain for that club; and the rest of the team just doesn't show the effort on both ends of the floor on a night to night basis. All these scenarios have been apparent in just the past two games. Against Indiana, they pathetically scored 77 points. Kobe went off for 40 points and the rest of the team was basically spectators. It didn't help that Kobe had 10 turnovers as well, but when the rest of the team isn't showing up, then it's sort of understandable why that was so high. More recently against Denver, they showed how great they could play. For one, Kobe wasn't the leading scorer! That honor would go to Antawn Jamison; who would go off for 33 points. They shot over 50% from the 3-point line and showed how the D'Antoni system could work with them. Then when Nash comes back, they could be a very scary team.
Lastly, Coach Pop decided to rest 4 of his starters for a nationally televised game against the champion Miami Heat. That game was the fourth in six nights for them, while it was the first in four nights for the Heat. Pop's reasoning was that the schedule was too rough on them and he decided their upcoming game against league leading Memphis was more important. He did what was best for his team to put them in proper position to make that playoff push in hopes of obtaining his fifth title as a coach. By all rights Pop made the right decision seeing as his core trio of Duncan, Parker, and Ginobili are on the other side of their careers. However, Commissioner Stern had other thoughts. He stated that the
Spurs would face serious sanctions for not notifying the league ahead of time; and that they were destroying the integrity of the game. He also decided to fine the team to the tune of $250,000. While there is some truth to his reasoning, he had no right to fine them for a decision that wasn't against the rules. I could understand why from a fan standpoint, that I'd be disappointed if I came to a game expecting a matchup of two powerhouses, yet I was treated to the B-squad from the other team. Yet in the long run, Popovich has to do what he thinks is necessary for this team in the long run; And Spurs fans surely appreciate him looking ahead and increasing their chances at getting another Championship.