The New York Giants have got to be the oddest world champions in the Super Bowl era. They've won two of the past five, each from the extreme underdog position, During both their 2007 and 2011 championship runs they lost badly late in the season in games which all but killed their chances at post-season play, only to go on an end-of-season and post season tear to win the ultimate trophy in all of sports.
A lot has been made about the Giants being the team that has to get things done the hard way. This season seems to be no different. The Giants needed to win out to win their division but instead of going to Atlanta and playing with heart they laid a giant goose egg, literally, as goose egg is symbolic of the number zero which is the amount of points the Giants scored. I wish I had anything positive to say but they offense didn't score anything and the defense gave up 34 points.
I guess this was the Falcons revenge for the beating the Giants gave them in the playoffs last year, as well as an incredible 34-year drought of being able to beat the Giants on their own field in Atlanta. At different points this season I have seen glimmers of a super bowl contender within the Giants organization but the team that showed up yesterday will probably not even make the playoffs. The only silver lining is that the Giants now have a legitimate running game with David Wilson and Lumpkin but they failed to utilize it after they got down big. I'm sick of talking about this disgusting game. The Giants need to win out to have a shot at the playoffs.
As recent history has shown, anything is possible if the Giants get to the postseason, but that fate is no longer in the Giants hands alone as they now have to hop both Washington and Dallas lose down the stretch.
NOTE: This is a special cross-article between Tuesday Morning Tailback and the weekly Giants Blog by J.D. Cook.
~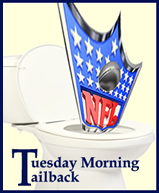 Tuesday Morning Tailback is a weekly article during football season which take a critical look at the NFL. We do this from the base belief that NFL football is the greatest game in the history of mankind, but some recent policies and the overall direction of the league has chipped away at this greatness. Our primary goal is to spark debate on these subjects, so please leave your own opinion on this article in the comment box below.