Home Alone 2: Lost in New York
By James West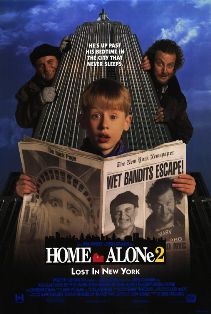 Our #9 Christmas Film
Released: November 20, 1992
Directed by: Chris Columbus
Get this movie now!
The Home Alone series is a childhood staple of all those kids who grew up in the 80's or 90's. Anyone familiar with the first film knows it's the story of Kevin McCallister (Macaulay Culkin), left HOME ALONE (Get It?!) by his parents and left to fend his house away from two crooks, Harry and Marv (played by the hilariously magnificent Daniel Stern and Joe Pesci). But we're not here to talk about the first one. When I was little, I always liked Home Alone 2 much better. Why? Two reasons in particular. I think that, now that I'm older, these same two reasons are why this movie is such a classic and why it's as much of a Christmas staple as its predecessor.
Firstly…the bad guys get the S&*# beat out of them SO much harder in this one. It's really a joy to watch them fall down a brownstone from a burning rope, or being thwacked in the head with a giant pipe at the same time. There's a cathartic feeling, seeing the little kid ("Hey! That could be me!", said every child who watched the movie ever) outsmart and kick the pants off these two crooks.
Secondly, and the superior reason…NEW YORK CITY. I've grown up in NYC all my life. Visiting the tree in Rockefeller Center, St. Patrick's Cathedral, etc. were all Christmas traditions growing up. Home Alone 2 so captures the essence of Christmas in New York. It can be this big, cold, unforgiving city, but at the same time there's a warmth and comfort to it when all the lights are up and it's filled with people looking for some Christmas cheer.  The film hits many of these seasonal landmarks: Rockefeller Center, The Plaza Hotel, Central Park, and FAO Schwartz (Sorta). While the first film captured the spirit of being at home with your family on Christmas, this one was more of a tour of Christmas time in New York; which, as anyone who has been here during the season can attest to, is a holiday experience all on its own.