A little over year ago, as their respective teams headed into their respective conference championships, I wrote an article about Baltimore Ravens coach John Harbaugh and San Francisco 49ers coach Jim Harbaugh called Hardy Har Harbaugh. Of course, both of their respective teams lost their respective championships and the Brothers Harbaugh failed to reach Super Bowl XLVI. However, this year they both achieved that goal and will meet in Super Bowl XLVII in New Orleans on February 3rd, so I've decided to heap praises on the Harbaughs once again. What follows below is mainly from that article a year ago.
Baltimore Ravens head coach John Harbaugh is a year older than his brother and has a longer head coaching tenure. John has led the Ravens to the playoffs in each of his five seasons as head coach. The team traveled to Foxboro, MA and defeated the New England Patriots to advance to the Super Bowl in New Orleans. This was the Ravens third trip to the AFC Championship during John's tenure as head coach, but the first that they won, as they lost to Pittsburgh in 2008 and to New England last year. The Ravens have played twelve playoff games under John Harbaugh, with only two of those games played in Baltimore, so the John's Ravens are road tested in big games.
Jim Harbaugh is only in his second year as head coach for the San Francisco 49ers, but his path to this position is a bit more colorful than that of his older brother. Jim was the starting quarterback for the Chicago Bears, Indianapolis Colts, and yes, the Baltimore Ravens over a 14-year playing career in the NFL. He led the pre-Peyton Colts to the AFC Championship in 1995, coming within one dropped "Hail Mary" pass against the Steelers of taking the Colts to the Super Bowl, and coming in second that year in NFL MVP voting behind Brett Favre.
After retiring in 2001, Jim was an assistant coach with the Oakland Raiders, before turning around two college programs, San Diego University and Stanford, as head coach. This climaxed with an 11–1 Stanford team in 2010 and a blowout victory in the Orange Bowl, Stanford's first Bowl victory in 14 years. Just days after that victory, Jim Harbaugh was offered a 5-year $25 million contract to become the head coach for the San Francisco 49ers, a team with a great tradition but who had not made the playoffs since 2002. In his first season he led the 49ers to a 13-3 record and a #2 seed in the NFC playoffs, ultimately losing to the New York Giants in the 2012 NFC Championship Game. This year was much the same, #2 seed, a victory (against Green Bay) in the divisional playoffs but now a road victory in the NFC Championship against the Atlanta Falcons.
The father of the Harbaugh brothers is Jack Harbaugh, who was an assistant coach at Michigan under legendary coach Bo Schembechler, as well as several other colleges over a long career, obviously establishing a strong pedigree of coaching success. The brothers faced off for the first time as coaching foes on Thanksgiving night, 2011 in Baltimore, with John's Ravens defeating the Jim's 49ers 16-6. They will have a rematch in New Orleans on February 3rd.
~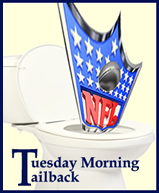 Tuesday Morning Tailback is a weekly article during football season which take a critical look at the NFL. We do this from the base belief that NFL football is the greatest game in the history of mankind, but some recent policies and the overall direction of the league has chipped away at this greatness. Our primary goal is to spark debate on these subjects, so please leave your own opinion on this article in the comment box below.