April 29, 2013
City of Fallen Angels
Oliver Layco
The Los Angeles Lakers have had a season to forget. Is there hope for the future of this prestigious franchise?
April 21, 2013
The Basement of Solitude
J.D. Cook
Where would you find hope in a world on the brink of the end?

April 14, 2013
Spartan Sprint: Citi Field
Oliver Layco
I have seen everything that Spartan Race has to offer! Read on to see how this iteration of the ever popular racing series lives up to its predecessors!

April 7, 2013
Jurassic Park in IMAX 3D
Oliver Layco
The movie 65 million years in the making is re-released 20 years later and gets the IMAX and 3D treatment. Read on to see if it's worth revisiting Islar Nublar!

April 3, 2013
Comic Book Commentary
J.D. Cook
The best Science Fiction is being written in Comic Books! Agree? Disagree? Take a gander at this article either way.

April 2, 2013
The Return of the Diesel
Oliver Layco
The Diesel will be immortalized in Lakers history as his number is retired. Read on to remember his time in the City of Angels!

March 4, 2013
Tom Coughlin's Earn the Right to Win
J.D.Cook
A short review of Tom Coughlin's new book on leadership, team building and how to be a more successful person.

February 26, 2013
Lincoln
Oliver Layco
Lincoln portrays the life of our 16th President during his second term in office. Does Spielberg deliver this time around? Or does he fall short like with War Horse?

February 23, 2013
Dark Skies
Oliver Layco
Dark Skies is hoping to shine some light on American Horror movies! Can it spread the clouds or does it leave horror in darkness??

February 20, 2013
Gifted
Oliver Layco
Mixtapes are usually a hit and miss type of game. Where does Gifted fall in this? Read on to find out!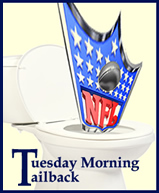 February 5, 2013
Nevermore
Ric Albano
And so it ends.

February 2, 2013
Dead Space Martyr
J.D. Cook
Game tie in novels are becoming more popular but how does this one stack up to the rest?

January 31, 2013
Dead Space 2
J.D. Cook
Dead Space is one of the highest rated games on this site but does Dead Space 2 live up to it's predecessor?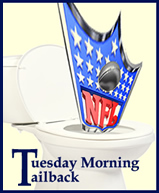 January 29, 2013
Why So Much Suck?
Ric Albano
Now the sports media have their talking points for the week to stop any chance of real fans getting real Super Bowl pre-game coverage.

January 26, 2013
The Dark Knight Returns Part 2
J.D. Cook
The second part of the Dark Knight Returns is even better then the first and possibly better than the Dark Knight Rises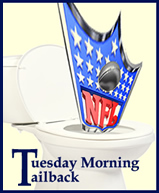 January 22, 2013
The Brothers Harbaugh
Ric Albano
Baltimore Ravens coach John Harbaugh and San Francisco 49ers coach Jim Harbaugh will became the first brother to face-off as head coaches in the Super Bowl.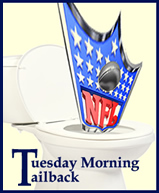 January 15, 2013
Kneeling Down On the Job
Ric Albano
Nothing is worse than a coach who doesn't play to win. And this is especially true in the playoffs.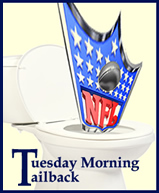 January 8, 2013
Those Shanahans Need to Be Fired!
Ric Albano
It may have taken an entire season, but I think I've finally figured out why the constant use of "RGIII" by mainstream sportscasters and broadcasters has become such a burdensome thorn in my side.

January 2, 2013
Django Unchained
Jacob Albano
Say what you will about Quentin Tarantino and his use of gratuitous violence (of which this has plenty), you can't take away the fact that he makes excellent movies with excellent dialogue.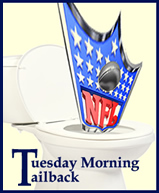 January 1, 2013
Romo Is the Hero Dallas Deserves
J.D. Cook
If I have to hear another excuse for the Dallas Cowboys, I'm going to ban sports media from my television.
Big Blue Bullfrog Archives