February 23, 2013
By Oliver Layco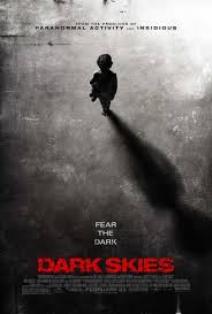 Dark Skies looked like a promising light in the dim world of American horror films. The premise was simple in that aliens have chosen a family and they have to fight back before one of them is taken. I fell into this trap because the trailer looked promising. We are first introduced to Lacy Barrett (Keri Russell), Daniel Barrett (Josh Hamilton), Jesse (Dakota Goyo), and Sam (Kadan Rockett). The family is a normal suburban family with the white picket fence. Lo and behold, there's trouble between the Lacy and Daniel because Daniel has been out of a job and they're strained for money. All while this is happening, events start happening around their house and within the family that seem out of this world. This then leads to Daniel resorting to security cameras around the house a la Paranormal Activity. Later on, Lacy decides to research what's going on and she finds some alien expert. She decides to tell Daniel and he doesn't believe it until he experiences things himself. The setup until this point was extremely drawn out and by the time we're introduced to Edwin the expert played by J.K. Simmons, it already lost its excitement. Granted the last 30 or so minutes were pretty decent, they weren't enough to save the film. One other aspect I liked about the film was their theory about aliens. They believe that they aren't going to come in some apocalyptic event to wipe out humanity or take our resources. The aliens are already here and they are slowly studying us. That seems more believable to me than most other theories. In short, this was a disappointing film that could have gotten more attention if they focused on consistent scares; this may have also helped with the pacing of the film to feel more natural. When this comes out on Netflix, it will be a good one to see with some friends.
6 out of 10 Bigblue Leaps!!
***

Nutshell Reviews is a collection of very short reviews of the most significant movies, books, music, and video games, from both the present day and days gone passed.