Tom Coughlin's Earn the Right to Win
March 4, 2013
by J.D. Cook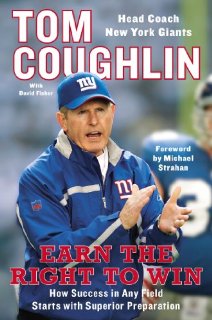 A few years ago Tom Coughlin was facing the guillotine…of coaching. Everyone I knew was calling for his head on a metaphoric platter after a potentially good New York Football Giants squad collapsed in the playoffs for the second straight year. Although my voice was not loud enough to penetrate the ridiculous sports media at the time if you could have heard my voice back at the end of the 2006 season you would have heard me shouting in response to his critics 'one more year!'. That year turned into the greatest sports season I have ever witnessed when the Giants upset the undefeated New England Patriots in 2007. Thank god the Giant's owners agreed with my rallying cry and were not as fickle as the sports media and a huge amount of my fellow fans. So it is that I find myself reviewing Coughlin's book Earn the Right to Win, How Success in Any Field Starts with Superior Preparation, many year after the coach not only proved himself capable of a single fantastic super bowl but two.
Earn the Right to Win is broken down into six simple chapters. Each chapter head is a lesson from Coughlin to the reader transcribed and flushed out by David Fisher. The lessons range from 'Build the Structure' to 'Hard Work is Good Practice'. Each lesson is peppered with Coughlin's experiences as a football coach throughout the decades. Some of the most interesting anecdotes come not from Coughlin's time as the Giants head coach but from his time building a football program at R.I.T. (Rochester Institute of Technology) and for the Jacksonville Jaguars. His experiences creating a winning formula from the ground up really speaks to anyone trying to start anything for the first time; be that a business or a novel.
Many of the lessons in the chapter are what you might call common sense but in today's technology driven culture littered with people who believe they are entitled to their fair share it manages to make a fresh point. You really do have to 'earn the right' to be successful at whatever you do. You can't go out into the world and expect to be given anything you have to practice your craft, be a great communicator, focus on details and even keep yourself on a schedule whenever possible. Coughlin's messages did not just pertain to individual success though; on the contrary they spoke largely to success in a group setting.
Having spent a large part of my collegiate career, and some of my high school career in various team and group environments I found Coughlin's chapters on building a structure and motivation very poignant. He focuses particularly on the subject of pride throughout the book. Now having grown up after the release of the film Pulp Fiction where pride is said to be a bad quality I found this very interesting. Individual pride can truly lead to people who are headstrong and problematic but without pride in a group organization such as a team or fraternity those structures tend to fail. I was deeply struck by the quotation of Colonel Greg Gadson which served as the header for the motivation chapter. It read, "When men put all of their energies into something that is greater than themselves, they forge a bond that will last a lifetime." This is extremely true of my time on my middle school football team and in my fraternity in college.
Tom Coughlin is a proven successful coach at basically everywhere he's been. He may not have won it all until he got to the New York Giants but he won a lot everywhere he went because of his work ethic. Getting a small glimpse at that work ethic in this book will better anyone who has the pleasure to pick it up. I highly recommend reading it as the messages have an almost limitless application to whatever business you find yourself in or life in general. People like Coughlin are a dying breed…even in the N.F.L. where political correctness and overall softness is rotting the last great true testament to competition. There are many parallels between the state of the United States as a whole and the N.F.L. and in both the only cure may be legions of people who have Coughlin's no nonsense straight forward attitude.
~