Houston, We Have a Problem
by Tuesday Morning Tailback
The Houston Texans are a real mess these days and much of it seems to be self-imposed. After coming into the 2013 season as two-time AFC South champions and starting the season with two come-from-behind victories, the team has totally collapsed with eight consecutive losses. To compound the problem, there is now an unnecessary quarterback controversy brewing.
Despite the losing streak, rookie quarterback Keenum was playing well after replacing long-time starter Matt Shaub earlier in the season. Shaub was injured after setting an infamous record of throwing a pick-six in four consecutive games and Keenum, from the University of Houston, seemed like a breath of fresh air with his inspired play. Earlier in Sunday's game against the Oakland Raiders, Keenum made one of the plays of the year in escaping a sure sack and throwing a long touchdown pass. Still, Keenum was benched after three consecutive three-and-outs in the third quarter by coach Gary Kubiak, with Shaub making an unceremonious return.
After failing to score in the red zone late in the game and solidifying the Raiders 28-23 victory, wide receiver Andre Johnson had some words with Shaub and promptly left the field with time left on the clock. Although both players later played down the incident, there is no doubt that this team, considered a potential Super Bowl contender at the onset of the season, has completely melted down. This Sunday the Texans will face the Jacksonville Jaguars with the loser having the worst record in the AFC.
In an eerily similar situation in the opposite conference, the Atlanta Falcons are also 2-8 and have already lost to the Tampa Bay Buccaneers to secure the worst record in the NFC. The Falcons had the best record in the conference last year and were also one of the favorites to reach the Super Bowl. Ironically, the Falcons are also Shaub's former team, as he was the presumptive starter after the Michael Vick crimes in 2007 but abandoned the Falcons for the greener pastures of Houston. If nothing else, these two cases show just how fragile success can be in the NFL.
Apparently owning up to his mistake, Kubiak has reinstated Keenum as starter next Sunday against the Jaguars. Whether this ushers in a new era for the Texans, we shall see.
~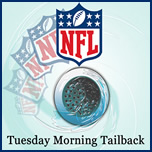 Tuesday Morning Tailback is a weekly article during football season which take a critical look at the NFL. We do this from the base belief that NFL football is the greatest game in the history of mankind, but some recent policies and the overall direction of the league has chipped away at this greatness. Our primary goal is to spark debate on these subjects, so please leave your own opinion on this article in the comment box below.
Other Sports Related Articles