by Tuesday Morning Tailback
NFL Red Zone is one of the best ideas to come around in recent years. Debuting in 2009, this premium channel offers live, commercial-free NFL coverage on Sunday afternoons during the regular season. The mission of the channel is in its name – to display live coverage of the most crucial action once a team moves into the "red zone" (within opponents 20 yard line).
Based in NFL Network studios, the channel is hosted by Scott Hanson. With his national "remote control", Hanson selects what action to show of the sometimes ten concurrent games, promising to show every score from every game. This "whip around" coverage also is used to show quick replays of big plays such as turnovers, deep pass completions, and other important key plays.
I first came across Red Zone as a subscriber to NFL Sunday Ticket, and soon made the determination that this one channel was all I needed to enjoy Sunday football. So, for the past few years, I have been an avid consumer of this channel and it had never let me down. Until this past Sunday, December 22nd.
During the nine early games (usually the most effective part of the Red Zone experience), Hanson seemed overly fascinated by the Cowboys-Redskins game. Sure, this game had some playoff indications, but nothing even remotely close to the Saints-Panthers game on at the same time, which was close throughout and came down to the last second. The most egregious failure came late in the game, when NFL Red Zone decided to stick with the Cowboys game during the garbage-time kneel-downs and MISSED the live action of Peyton Manning throwing his 51st touchdown to break the all-time, single-season record! In the irony of ironies, Red Zone viewers were watching Tony Romo kneel down as a Fox analyst praised his brilliant day (225 yards, 2 touchdowns, 1 interception), while at that EXACT SAME MOMENT Manning was breaking a record for the ages during a ho-hum 400 yards, 4 touchdowns, 0 interceptions day.
The late games were no better. Even though there were only five games, Hanson nearly totally ignored the Giants-Lions game (and I felt this first hand, having a Lions fan and a Giants fan in my presence). By the second half of this game, we were starting to take notes, and Hanson did totally ignore all but the very end of a half where the Lions overcame a 10 point deficit to eventually go up by 7 and the Giants rallied back to tie the game and send it to overtime. During most of this time, Red Zone spent long spans showing live coverage of the Patriots-Ravens game (a New England blowout from start to finish), even staying with this game for long spans between plays and only showing New York-Detroit scores on replay. What happened there?As J.D. Cook put it in his Giants Blog this week; "It was like being stuck at the mercy of some kind of television Big Brother."
Now, I realize nobody's perfect, and Hanson and Red Zone were pretty much flawless through 15 weeks of this season, so it is almost a shame that our first mention of Red Zone is in a negative light. But this is the time of year to bring your 'A' game and we fans expect better than we got on Sunday. We have one week left to decide the final playoff spots and Red Zone will have its heaviest load of 15 games this coming Sunday afternoon. I'm sure Hanson and the network will get back on their game, cover only the best live action, and recover nicely to finish out the season. After all, Tony Romo will not be playing.
~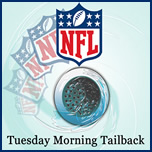 Tuesday Morning Tailback is a weekly article during football season which take a critical look at the NFL. We do this from the base belief that NFL football is the greatest game in the history of mankind, but some recent policies and the overall direction of the league has chipped away at this greatness. Our primary goal is to spark debate on these subjects, so please leave your own opinion on this article in the comment box below.
Other Sports Related Articles