by Tuesday Morning Tailback
When a fumbled handoff near the goal line took a fortuitous bounce into Andrew Luck's hands and he lunged forward for a touchdown, you just knew this was going to be one of those classic moments. It kind of reminded me of John Elway's famous propeller flip for a first down late in Super Bowl XXXII – nothing anyone can ever plan to do, but nonetheless a definitive symbol of a great player's will to win.
Luck's touchdown did not win the game. In fact, it made the score 41-38 Kansas City early in the fourth quarter. But the Chiefs had led 38-10 just 15 minutes earlier and the incredible bounce and where-with-all of Luck to dive in the end zone gave everyone watching the sense that the Indianapolis Colts were in the midst of an incredible comeback against the Kansas City Chiefs in the Wildcard playoff. Later in the quarter, Luck hit T.Y. Hilton on a 64-yard post pattern in what proved to be the winning score in a 45-44 victory for Indianapolis.
Statistically, it was not a great game for Luck. In fact, he got off to a disastrous start, throwing three interceptions in the first half as a depleted Chiefs team played their hearts out and built a big lead. But the truly great players find a way to get it done in situations such as this and in just two NFL seasons, Andrew Luck as shown that he is well on his way to greatness.
Another big step in this process comes this Saturday, when the Colts travel to New England to face the Patriots in the AFC Divisional Playoff. If Luck and his team survive that matchup, it may mean a showdown with the Denver Broncos and former Colts legend Peyton Manning in the AFC Championship.
~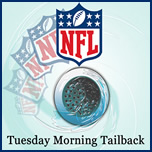 Tuesday Morning Tailback is a weekly article during football season which take a critical look at the NFL. We do this from the base belief that NFL football is the greatest game in the history of mankind, but some recent policies and the overall direction of the league has chipped away at this greatness. Our primary goal is to spark debate on these subjects, so please leave your own opinion on this article in the comment box below.
Other Sports Related Articles