Tuesday Morning Tailback's "No Bullshit" $100 Challenge
Update – December 20, 2011
It is now official that no one will meet the $100 No Bullshit Challenge as four divisions have been clinched by New England, Houston, Green Bay, and San Francisco and nobody had these four teams in their picks. For those who participated, thank you for playing and better luck next year!
Original Article – August 30, 2011:
Welcome everyone to the new and improved BigBlueBullfrog.com and the initial Tuesday Morning Tailback article of the 2011 NFL season! We started this weekly column late in the regular season last year and ran it through the playoffs up to the Tuesday following the Super Bowl. We are avid NFL fans at Big Blue Bullfrog (in fact, the "Big Blue" comes from the fact that our founder, Jeremiah "The Bullfrog" Cook, is a New York Giants fanatic), but we strongly believe that the NFL is quickly heading down the wrong path by implementing policies that slowly deteriorate, the greatest sporting competition in human history. Tuesday Morning Tailback features commentary on the National Football League, covering a diverse range of relevant subjects in a critical light.
To kick off the 2011 season, we had this very special edition that invited all readers to forecast who they think will be the 8 Division Champions at the end of this regular season (January 2, 2012). If you participated and accurately predicted all 8 regular season division champions for the 2011 season, you will receive $100 from us – no bullshit!
We did this not only to gain more regular weekly readers, but to have a bit of fun and demonstrate how difficult it is to accurately make predictions. Every year we get the "so called expert" predictions on who will place where and, inevitably, these experts fail to see the upcoming teams that will buck the system and creep up to the top. We covered this topic at the end of last season in our article Predictions, Predictions. This year we gave everyone a free chance to show their forecasting skills and offered a monetary prize to anyone and everyone who got it right – no bullshit!
If you entered this contest, good luck! We will only use contact you and ask you where to send the check if you got all 8 teams right – no bullshit!
---
Here are the 32 NFL teams listed by division. They are listed here in alphabetical order, not in any order of prediction:
AFC East
NFC East
Buffalo Bills
Miami Dolphins
New England Patriots
New York Jets
Dallas Cowboys
New York Giants
Philadelphia Eagles
Washington Redskins
AFC North
NFC North
Baltimore Ravens
Cincinnati Bengals
Cleveland Browns
Pittsburgh Steelers
Chicago Bears
Detroit Lions
Green Bay Packers
Minnesota Vikings
AFC South
NFC South
Houston Texans
Indianapolis Colts
Jacksonville Jaguars
Tennessee Titans
Atlanta Falcons
Carolina Panthers
New Orleans Saints
Tampa Bay Buccaneers
AFC West
NFC West
Denver Broncos
Kansas City Chiefs
Oakland Raiders
San Diego Chargers
Arizona Cardinals
St. Louis Rams
San Francisco 49ers
Seattle Seahawks
The 2011 contest closed at 11:59pm on Monday, September 5, 2011
The 2012 contest will begin on Tuesday, August 28th.
Please check back!
~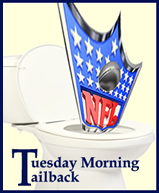 Tuesday Morning Tailback is a weekly article during football season which take a critical look at the NFL. We do this from the base belief that NFL football is the greatest game in the history of mankind, but some recent policies and the overall direction of the league has chipped away at this greatness. Our primary goal is to spark debate on these subjects, so please leave your own opinion on this article in the comment box below.