Okay folks, it's time for some fun. As many of you know, we held our $100 'No Bullshit' Challenge this past week, right up until midnight last night. Today we will put our own credibility on the line by making our own picks, division by division, and analyzing how we agree or disagree with all of you. We do this knowing that there is so much unforeseen in any given NFL season and we sincerely doubt that we'll get get all of our picks correct. But we promise that we will not act as know we knew it all along when one of these teams takes us for surprise.
AFC East
Your picks: New England by a huge majority of 81%
The Patriots dominated this division last year but were knocked off by the New York Jets in the playoffs. Both of these teams seem to be in tact going into the 2011 seasons, so it is fascinating that New England is such a clear-cut favorite, getting more votes than any team in our Challenge. We're going to jump right in and buck the trend right here, for while the Patriots and Jets and tuning up to face each other, it appears no one is paying attention to the team down south with the solid defense and recently signed skill players. New England has won this division every year since 2003 except one – in 2008 when the Dolphins snuck in there and shocked everyone. We're predicting a similar shock this season.

Our pick: Miami Dolphins
AFC North
Your picks: Pittsburgh by a clear majority of 71%
The Steelers went to the Super Bowl last season by holding off the Baltimore Ravens in the regular season and then beating them again the playoffs. Both of these teams are built similarly – with solid running games and defenses and competent quarterbacks who were vastly underrated coming out of college. However, Baltimore seems to be Pittsburgh's junior in all these phases and, hense always a half-step behind. Combine this with the fact that we don't see any major moves coming out of Ohio, we predict another division title for Pittsburgh.

Our pick: Pittsburgh Steelers
AFC South
Your picks: Indianapolis by a plurality of 42%
The Colts have been on a incredible playoff run over the past nine seasons, not only making the playoffs each of those seasons but averaging over 12 wins over that time span (to put this in perspective, the Cardinals have never once had a 12-win season in over 90 years of existence). Starting last season however, Indianapolis appeared to fall off their elite status as they had to fight off the Jacksonville Jaguars late in the season in order to make the playoffs, where they were swiftly upset at home by the Jets. The Houston Texans were the chic pick to emerge going into last season but performed dismally according to their talent. But this year, with the Colts weakened and the division quite mediocre, we think the Texans will finally break through and make their first playoff appearance.

Our pick: Houston Texans
AFC West
Your picks: San Diego by a plurality of 48%
Going into last season, the experts told us that this division was the easiest to read with San Diego head and shoulders above the rest. Then they actually played the games and the Chargers lost 3 of 4 to the young Chiefs and Raiders, with Kansas City coming out with the division championship. The Raiders actually ran the table, sweeping all games against their division rivals but then went and lost some bizarre games out of the division and cost themselves the playoffs in the process. We expect them to be more mature and focused in 2011 and win the AFC West.
Our pick: Oakland Raiders
NFC East
Your picks: Philadelphia by a majority of 57%
Well, here we go again with the hype. The Eagles are now being touted as the "dream team" due to their off-season acquisitions and solidifying of Michael Vick at quarterback. Vick had a great season in 2010, but he will take no one by surprise this season. The last game Philadelphia actually won was four games back into last season when they came from way back to win a critical game against the New York Giants. After that incredible game, we explored the over-the-top media hype over this team in our article Fly, Eagles, Fly. The Eagles did not win another game following that and have never won a Super Bowl.
Our pick: New York Giants
NFC North
Your picks: Green Bay by a clear majority of 76%
This division included both participants in the NFC Championship Game last season as regional rivals Green Bay and Chicago faced off. The other teams – Minnesota and Detroit – should also be solid in 2011, making the NFC North perhaps the best division top to bottom. All that being said, we clearly favor the World Champions who did it the hard way last year, struggling through several major injuries and winning all their post season games on the road. We see no reason why the Packers should not be the clear favorites to repeat and expect them to perhaps win 13 or 14 games during the regular season.
Our pick: Green Bay Packers
NFC South
Your picks: New Orleans by a majority of 52%
The Atlanta Falcons had a great season in 2010, winning their division over the (then) defending champion New Orleans Saints and finishing the regular season with the best record in the NFC. Then they were soundly thumped at home against the eventual champion Green Bay Packers. Atlanta has never strung together two consecutive playoff seasons and the NFC South should be more competitive with the still-excellent Saints and the up-and-coming Tampa Bay Buccaneers. We give the edge to New Orleans.
Our pick: New Orleans Saints
NFC West
Your picks: St. Louis by a majority of 62%
We finish with , perhaps, the weakest division in the NFL. In fact, Seattle became the first team in history to make the playoffs with a losing record last year simply because someone from this division had to represent it. We see one team in the NFC West who appears to be on a clear upward trajectory, and our pleasantly surprised that so many of you agree with such a clear majority.
Our pick: St. Louis Rams
Well, there you have it. Let the debate begin and we'll see how accurate these picks are in January.
~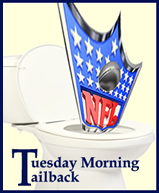 Tuesday Morning Tailback is a weekly article during football season which take a critical look at the NFL. We do this from the base belief that NFL football is the greatest game in the history of mankind, but some recent policies and the overall direction of the league has chipped away at this greatness. Our primary goal is to spark debate on these subjects, so please leave your own opinion on this article in the comment box below.