Consistency vs. Asininity
by Tuesday Morning Tailback
Earlier this morning I was watching the "Monday Night Football" contest between the Oakland Raiders and Denver Broncos. This contest, between storied division rivals with great traditions, kicked off at about 10:30pm EST Monday night but the bulk of the game was played in the wee early hours of Tuesday morning on the east coast. It was a great game if you a fan of the "foot" part of football, as there were some monster punts, kickoffs through the end zone, and a record tying 63-yard field goal by Oakland's Sebastian Janikowski. But this game symbolized much more to me than just the fantastic innovations in the kicking game.
First, I don't quite get the point of having this second, late night game on the opening Monday night. Is there really an audience clamoring to stay up late for a less-than-marquee game? But there has been a larger issue with Monday Night Football itself since ESPN took it over from ABC a few years back. It has really taken a backseat to NBC's Sunday night game in both quality of match ups and production.
The second thing with this Raiders-Broncos game was the uniforms. The Denver Broncos, who rose to greatness as "The Orange Crush" 35 years ago, actually opened their season in orange for the first time since their ill-fated adoption of the sleek, "modern" look in 1997. This is good and the team should permanently switch to orange. Looking into the crowd, it must have been 20 to 1 fans wearing orange "alternate" jerseys to the standard navy blue ones.
The Raiders, well, they looked like the Raiders. They haven't changed a lick since the late 1960s and their appearance instantly brings back memories of the team which was "committed to excellence" and won several Super Bowls decades ago. There are several more teams which have, to their credit, maintained their traditional look and resisted capitulation to the fads of the day. These include the Steelers, Colts, Chiefs, Packers, Bears, and Cowboys – all of which have rich, winning traditions. There are several other teams that had toyed with a more modern look but have now gone back to a retro look – the Giants, Jets, Redskins, and (apparently) the Buffalo Bills – kudos to these teams. I don't expect the Broncos to go completely retro but, please, switch permanently to the orange uni's.
The last thing on last night's (this morning's) game – it was played, where? Sports Authority Field? What happened to Invesco Field? And, for that matter, Mile High Stadium? THAT was a great name for a football stadium, incorporating both the geography and attitude of the Rocky Mountain region. We have come into an age of half-billion dollar, disposable venues with mutli-million dollar, disposable names. Now, I know it's nothing new when corporations name sporting venues – Wrigley Field in Chicago comes to mind. But that traditional baseball venue has somehow held on to the name of a bubble-gum company for nearly a century and not switched to that of some multi-national corporation.
Look at some these examples –
Sun Life Stadium in Miami was built in the mid 1980s and is on its fifth name, being previously called "Joe Robbie Stadium", "Pro Player Field", "Dolphins Stadium", and "Land Shark Stadium"
Since the early 1990s, the stadium in Jacksonville has morphed from "The Gator Bowl" to "Jacksonville Municipal Stadium" to "Alltel Stadium" to now EverBank Field
Stadiums in Charlotte and Seattle, both built less than twenty years ago, are each on their third official name.
The "New Meadowlands Stadium", which opened up just last year, has already changed its name to Met Life Stadium
The counter-argument for this may be that it is better for corporations to help fund the venues by purchasing naming rights than pass on costs to taxpayers. Fair enough. But ask yourself, how has this benefited the fan? Lower ticket prices? Can you get a dog and a beer for under $20? No way.
The truth is that the stadiums themselves have become nearly as disposable as their names. Think about this, eight stadiums and domes built in the 1970s have already been razed to the ground in Philadelphia, Pittsburgh, Cincinnati, Seattle, Indianapolis, Irving TX, Pontiac MI, and East Rutherford NJ. And chances are these new venues which replaced all of those will also be gone in little more than a generation. And that's the real reason why they have to "whore" themselves out with ridiculous names.
What is wrong with an old stadium? The first game I ever saw live was at the old Cleveland Municipal Stadium. The field was muddy, the seats were wooden and uncomfortable, the corridors were dark and dingy, and there were several vertical posts to obstruct your view. But there was such a great vibe in that building and there was such great football played on that field in front of a consistently packed house of 80,000 rabid fans. Today the Browns play in a beautiful new stadium and they suck. I'll bet those fans would trade in a minute this sanitized new stadium and terrible team for that rickety old stadium and the great Browns teams of the past. Tradition means something in this game and the NFL will suffer because of this rapid re-generation.
So kudos to the Oakland Raiders, who played late last night (early this morning). They not only look the same, but are one of the very few teams that still play in the same stadium which they did during the NFL's Golden Age of the 1970s. That venue is Oakland Alameda County Coliseum and… WAIT! This just in! It has now been renamed the O.com Coliseum.
What ???
~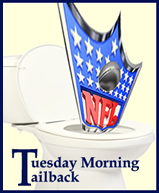 Tuesday Morning Tailback is a weekly article during football season which take a critical look at the NFL. We do this from the base belief that NFL football is the greatest game in the history of mankind, but some recent policies and the overall direction of the league has chipped away at this greatness. Our primary goal is to spark debate on these subjects, so please leave your own opinion on this article in the comment box below.