Polarizing the Football World
September 20, 2011
By Tuesday Morning Tailback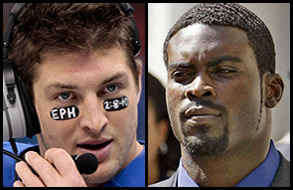 This past Sunday morning (September 18th), the ESPN show "Outside the Lines" focused on Denver Broncos quarterback Tim Tebow saying how "this third-string quarterback polarizes the football world" and stated that Tebow is "at the epicenter of a cultural storm that divides our nation". And what exactly is so polarizing about this young man? He is a devoted Christian who actually practices what he preaches (gasp!). Tebow has done charity work and missionary work and is not shy about professing what he believes, going as far as displaying bible verses on his eye-block while playing at the University of Florida.
When Tebow was drafted as a first round pick by then-Bronco coach Josh McDaniels it was a surprise, to be sure. Most of the so-called experts thought he was a solid second-round talent but many thought he may be drafted by the Jacksonville Jaguars, a team desperately in need of a QB for the future which also happened to be geographically close to Tebow's home town. But to listen to these same experts today, you'd think that Tebow, who lead Florida to two national championships and won a Heisman Trophy, is purely a token player to placate right-wing religious fanatics and has no hope of ever being "a true NFL quarterback". This "true NFL quarterback" now being personified by the critic's latest darling, Michael Vick, of the "dream team" Philadelphia Eagles.
I was a huge fan of Vick coming out of college at Virginia Tech in 2001 (when, ironically, many of the same critiques about him not being a traditional QB were levied against Vick as they are now charged to Tebow). Through his early NFL career with the Atlanta Falcons Vick was consistently inconsistent, showing flashes of absolute brilliance and phenomenal talent at times, while never quite elevating his team to the reliably winning level. Then in 2007 he screwed over his team probably worse than any player in NFL history, by his bizarre and cruel personal conduct concerning organized dog fighting. He was immediately and indefinitely suspended by the NFL and ended up spending nearly two years in prison. In 2009, he came back as a third string quarterback for the Philadelphia Eagles and played little that year. When the Eagles traded Donovan McNabb in 2010, Vick moved up to second string and then soon got the starting job when he filled in for an injured Kevin Kolb and, once again, played brilliantly. And then the hype machine kicked into full gear.
Coming into this season the NFL press and the NFL itself elevated Vick to be one of the four or "Faces" of the league and the term "redemption tour" is frequently used in describing Vick's play. Here, the NFL plays favorites at its own peril. Some in the press had compared Vick's situation a "feel good" story similar to that of Josh Hamilton, a baseball player with the Texas Rangers who came back from a serious drug addiction to win the MVP in 2010. I think this analysis totally misses the mark. When we looking at Hamilton, most reasonable people may say "there but for the grace of God go I". We're all flawed and even good hearted people may be susceptible to addiction. But these same, reasonable people could never see themselves in a place where they would systematically torture and kill man's best friend. There's just a special level of "creepiness" involved that is beyond the typical, situational mistake.
Still, unlike Tebow, there does not seem to be much organized "hate" against Vick. On Sunday's Outside the Lines show, a report by Mark Schwartz showed various anti-Tebow Facebook pages and spent much time eliciting commentary from comedian Matt Vesser, who stated that hating Tebow is "one of his favorite hobbies". Even his college coach Urban Meyer said he was concerned that there might be "holes in his wholesomeness", which the press would immediately jump on if Tebow, say slipped up with one of the attractive women on the campus. To date, there is no evidence that he ever made one of these "human" mistakes, but there are plenty of people frothing on at the mouth that this may someday happen.
None of this has anything to do with whether or not Tebow should be the starting QB at Denver. Many analysts acted shocked that Bronco fans were calling for Tebow late in the game against Oakland when the team was only trailing by 3 points. But, as a panelist on the OTL show correctly pointed out, the Broncos had no problem insinuating Tebow would be their starter when they immediately tried to trade Kyle Orton after the lockout ended, nor did they have a problem portraying Tebow as the future of the franchise when they put his image on off season marketing literature. Now, because of a sub-par preseason, Bronco fans are supposed to accept Tebow as their THIRD string quarterback? And if they protest, it is only because they concerned more "pushing" their Christian values than the team winning games? Something is not quite right with the logic here.
To his credit, Michael Vick has played well and has earned his spot as Philadelphia's starting QB. But why the over-hype by the media and the NFL itself, which included Vick in its preseason promos as one of 3 or 4 elite players? He is not in the same league as Aaron Rodgers, Tom Brady, Drew Brees, or even the injured Peyton Manning. He is the modern day equivalent of Randall Cunningham – capable of incredible situational feats, but not Super Bowl caliber.
Ironically, this just well may describe Tim Tebow someday. But we need him to play to find out for sure.
~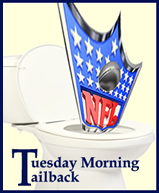 Tuesday Morning Tailback is a weekly article during football season which take a critical look at the NFL. We do this from the base belief that NFL football is the greatest game in the history of mankind, but some recent policies and the overall direction of the league has chipped away at this greatness. Our primary goal is to spark debate on these subjects, so please leave your own opinion on this article in the comment box below.