The NFL's Soft Pink Underbelly
October 4, 2011
By Tuesday Morning Tailback
It was an extremely important early season game on Sunday night as the New York Jets traveled to Baltimore to face the Ravens. These two teams have been very similar in recent years in that they've both been perennial playoff teams but neither has quite been able to close the deal with a championship. They're also both very defensive minded teams with Jets head coach Rex Ryan previously holding the Defensive Coordinator spot with the Ravens for over a decade. So the stage was set with one more important element – the Ravens would wear their intimidating black on black alternate uniforms, which they reserve for such important showdowns. Then they take the field, accented in cartoonish pink decor.
But the Ravens were not the only team to sport pink on Sunday, so did the Jets and every other team. Two years ago the NFL started its campaign which it calls "A Crucial Catch", a breast cancer awareness push in partnership with the American Cancer Society. This is an important and noble cause to be sure and seeing all the players wearing pink gloves, wristbands, hand towels, and shoes was quite a novelty when it was first introduced in 2009. But now, this flamboyant display has, frankly run its course. I'm not in any way saying that the NFL should abandon this cause, I just think it is a bit over the top to splash it so prevalently onto the playing field. After all, aren't there a hundred other causes which are just as important but don't receive sanctioned "awareness" campaigns?
Of course, the counter argument by some will be that I'm against the fight against breast cancer (as if I have no concern that my wife, daughter, sister, or mother may contract this deadly disease). This type of logic is really a despicable aspect of political correctness that demands a display of phony feel-good symbolism, lest you tacitly take the opposite position. Bullshit! I'm all for the NFL pushing this awareness campaign. Let them forgo a few six figure commercials during games to put up PSA's, put up billboards at stadiums, and yes, even in the sideline wardrobe of players and coaches. But keep it off the playing field – the one place where it should be 100% competition, suspended from all real-world reality.
To illustrate just how far the NFL has slipped on this issue, one only has to go back barely a quarter century. In the 1980s Pete Rozell, the NFL's greatest commissioner who built it into the world's greatest sport which it is today, repeatedly fined Bears quarterback Jim McMahon for wearing headbands UNDER his helmet, with hand written names of causes he believed in such as juvenile diabetes and POW-MIA. Realize, the only time and place these messages were displayed were while McMahon was out of the game, on the SIDELINE, but Rozell still felt these headbands it distracted from the game itself and levied fines. Personally, I think Rozell was a bit harsh in those situations but I do understand that he was trying to preserve the integrity of the game by making it 100% about football and only football while on the field. Goodell seems obsessed with making the NFL a mish-mash of political lobbying and group identity campaigns, which also holds football competitions.
The NFL players looked comical out there on Sunday and the "real men wear pink" slogan has seen its day. It may have worked the first time, two years ago, but now seems flat and absurd. I'm sure many of the players themselves look and around and agree, but they dare not say anything and go against the prevailing "wisdom" of commissioner Rodger Goodell and the mainstream PC sports media, who would surely jump on anyone who voiced their true opinion. But think of it in these terms; that Jets-Ravens game on Sunday turned out to be an historical defensive matchup in that the defenses and special teams far outscored the offenses. Imagine a few decades from now, long after this symbolic cause de jour has run its course, viewing the NFL Films "vintage footage" of this game and seeing that ridiculous pink splashed all over the players uniforms. Not quite the toothless Jack Lambert slamming a Cleveland Browns player down in the mud, is it?
~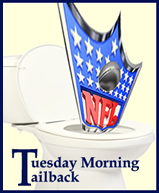 Tuesday Morning Tailback is a weekly article during football season which take a critical look at the NFL. We do this from the base belief that NFL football is the greatest game in the history of mankind, but some recent policies and the overall direction of the league has chipped away at this greatness. Our primary goal is to spark debate on these subjects, so please leave your own opinion on this article in the comment box below.