Nicknames Suck, Let's Shake On It
October 18, 2011
By Tuesday Morning Tailback
Why do these weenie-headed sports analysts insist on ruining Calvin Johnson for me? I would just like to appreciate some of the fantastic on-field feats that this Detroit Lions wide receiver has been doing this season, but the sports media has insisted on blowing him out of proportion with the ridiculous nickname "Megatron".
Why can't a serious football fan get serious analysis without the hype and marketing tie-in? This brings back that same ugly feeling I got every time I heard "T.O." come from an announcers mouth, and worse so because Calvin Johnson actually seems to want to help his team win and not cause controversy like old Queen Xerxes. Now I understand that nicknames have always been part of the game and Johnson was apparently given his years ago when Roy Williams was still with the Lions, but it is one thing to have the name thrown around in the locker room and quite another to hear it from dweebs like Ron Jaworski and Merril Hoge on ESPN's NFL Sunday Matchup.
Speaking of Jaworski, he is the one who allegedly gave Miami Dolphin's receiver Brandon Marshall his nickname of "The Beast" as he stated during last night's Monday Night Football broadcast. Now Marshall is requesting that his nickname be "The Monster" and not "The Beast" as some in the Miami have been starting to call him "The Bust". Beyond the laughable, politician-like "spin control" involved in this, Marshall violates a basic principle that I learned as a wee-little child on the playground many years ago – YOU CAN'T GIVE YOURSELF A NICKNAME!
But back to Calvin Johnson and the Detroit Lions. It appears that all the "Megatron" hype did no favors this week as Johnson had a very average game and the Lions lost their first game of the season to the San Francisco 49ers. Most of the focus following this game was on the near fight that broke out during the post game handshake between the two head coaches.
Now the big debate is whether or not the NFL should continue to mandate the handshake after each game, probably the most trivial issue I have every heard of. Can't we just shake on this – let's cool it with the nicknames?
~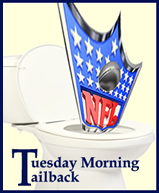 Tuesday Morning Tailback is a weekly article during football season which take a critical look at the NFL. We do this from the base belief that NFL football is the greatest game in the history of mankind, but some recent policies and the overall direction of the league has chipped away at this greatness. Our primary goal is to spark debate on these subjects, so please leave your own opinion on this article in the comment box below.