"Happy Christmas (War Is Over)"
by John Lennon & Yoko Ono
Listen to the Song:
[audio:04_HappyXmas.mp3]
Before I tear into this song I will explain why it is here so high when I have so many problems with it. First off, this is a song that has been played around Christmas my entire life. Much like McCartney's "Wonderful Christmas Time" this one just makes me think of Christmas. John Lennon's voice is fantastic, and the song itself evokes the kind of sad Christmas spirit I find in great Christmas songs. The backing vocals work very well and the bass guitar, sleigh bells, chimes, glockenspiel all play their part as well, a testament to the excellent production by Phil Spector.
This is a Christmas classic, and may well have been closer to the top but as I give it a more serious listen I inevitably start to find flaws. For the first time it sounds a little dated, there's a hint of political correctness (ugh!) and Yoko Ono's voice annoyingly seems to stand out much more than it used to do. Nonetheless, it is my number four because it's inseparable from the Christmas season for me and it is still a deep song, but not as much as I used to think.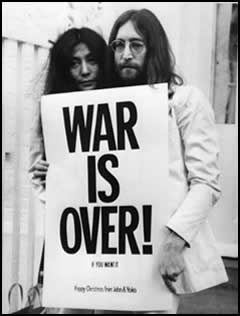 This is really the ultimate liberal Christmas song, not that this is a bad thing in of itself. Introspective lines like "So this is Christmas, and what have you done? Another year over, and a new one just begun," are the highlights of the song. Then you throw in the scolding "The world is so wrong and so happy Christmas," and I return to my problem with the song. Its political agenda, complete with billboards and posters in 1971, takes away from it being just a great Christmas song. Those that are more naïve will say Lennon is just saying war is bad, but I see him calling attention to the fact that while we sit celebrating Christmas people are literally dying across the world. This is a noble endeavor, but I can't help hearing Lennon preach to me, and I hate peachiness. Then there is a great irony.
Although the song advocates "War is Over", the personal war between Lennon and former Beatle-mate Paul McCartney was at a fevered pitch. Lennon poached Hugh McCracken from his rival to play guitar. McCracken had played on the Ram album earlier that year. That same album started with a song called "Too Many People", which Lennon felt McCartney had written as a veiled slight against Yoko and himself. Lennon responded with an even more direct message in "How Do You Sleep?" on his breakthrough album Imagine, which was released just a few months before the recording of "Happy Xmas". So Lennon was anything but the peaceful hippie himself while making this Christmas song advocating peace.
Of course I understand this song was in protest to the Vietnam, and viewed in that context it is a little easier to swallow. Still people should realize Lennon while a great musician was not as deep as his reputation has made him. He seemed to fancy himself a Bob Dylan of sorts, but if you know Dylan you know he started with Protest songs before moving on to deeper more artistically substantive works. Lennon moves in almost the opposite way. All of this said – Happy Christmas.
~