January 23, 2012
By Blaise Greco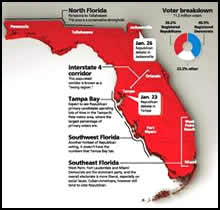 As the 2012 Presidential Primary begins this week in the state of Florida, many people are definitely looking towards the Republicans and are leaving the Democrats. This is probably because here in the south, a lot of local businesses have shut down that have been operating for decades. The sinking economy has caused a lot of unemployment in the Orlando and Tampa areas as well. The only corporation that is creating more jobs for America in this region is Walt Disney World. They are expanding in hotels, theme park attractions, and restaurants.
As a Cast Member at Walt Disney World, I have been talking to a lot of my co-workers about this upcoming primary and a lot of them are really upset about how America is today. They tell me how they want change that's going to help the economy. I would have to say I spoke to a few people who remain on the Obama train while at least half of the people I spoke to like Ron Paul. Others are undecided and have told me that politics is ridiculous and they are not going to vote.
As I have been watching candidates like Mitt Romney, Rick Santorum, and Newt Gingrich speak on CNN, Fox, and C-Span, I wanted Santorum to win a few primaries. But it looks like he is going to drop out of the race, which is fine because he is young and I know he'll be back in the near future. But now I have voted for Romney because I like his policies, I like where he stands, and he is a business man. I think that is exactly what we need to shape up this economy and bring back America how it used to be. Also, let me add, a lot of college students that I have spoken to at the University of Central Florida, want Mitt Romney to win the white house.
And finally, I have been hearing this a lot from Floridians. They have been saying to take out everyone in Congress and put in the people that make sense, not liberals. I hope America makes the right choice and votes in someone who will make us stronger and help boost our economy and bring back small businesses.

~