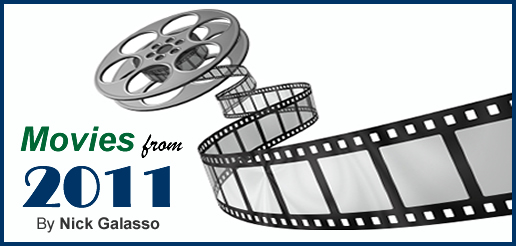 One of the most essential things I was taught in my Film 101 class in school was that film is first and foremost an art form. While it is true that film definitely is an art form, this list has nothing to do with any of that. This is not a list where I analyze each film I picked as far as technical achievements, award qualifications, or any other sort of aspects that rank each film as far as how well they succeed as a form of art. If that were the case, this list would probably be much different. Besides, to really rank films based on how well they succeed as art is kind of difficult, because it is like comparing apples to oranges. They are all just way too different.
No, this list is simply just a list of films that I personally enjoyed the most last year. The majority of these films vastly differ from the rest and the reasons for which I value them are, for the most part unique to each film, rather than, "All these films really contained this one shot I really like, blah blah blah." No. While most of these films boast technical aspects that I was pleased with, said technical aspects will not be all that I address.
With that being said, it was a great year for film. What 2010 lacked, 2011 made up for immensely. As opposed to the horrid summer we had the previous year, there were some great blockbusters during 2011. While the indie films last year featured great casts that only amounted to pretty good films, the indie films this year made much more of a lasting impression. Awards season was looking much better also, as we didn't have one film basically overshadowing everything else, as in the case of what David Fincher's "Film of a Generation Except it Really Isn't" The Social Network did to everything else last year. This year, we got to see some new superheroes get their time to shine, the return of some old franchise favorites, and films destined to be cult classics, as we also see the return of some great directors that include George Clooney, Steven Soderbergh, Alexander Payne, Lars Von Trier, David Cronenberg, Jason Reitman, Roman Polanski, as well as the one and only Steven Spielberg bringing us not one, but two films.
One reason I mention all of this is the fact that because this was such a great year for film, it also meant that in order to make a proper list, there were a massive amount of films I had to cut. Otherwise, we'd be looking at me recommending almost every movie I've seen this year. While you are about to view a list of films I personally enjoyed the most, there are still plenty of great films beyond this list that you should definitely look into.
Honorable Mention (Alphabetically)
The Adventures of Tintin
The Artist
Carnage
Crazy, Stupid, Love
Harry Potter and the Deathly Hallows, Part Two
Hobo With a Shotgun
Moneyball
Rise of the Planet of the Apes
Winnie the Pooh
Win Win
~