Rick Santorum's Big Night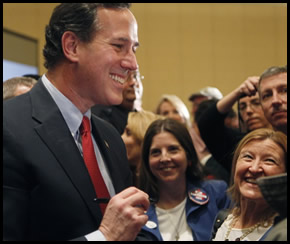 The good news for former Senator Rick Santorum is that he had a good night last night, with decisive victories in Minnesota, Missouri, and Colorado. The bad news is that all these states had proportional delegation, if at all. Although Santorum won clear majorities of votes in each state, the actual delegates won on Tuesday only totaled 11. This is less than 15 of the 1104 total delegates needed to win the Republican nomination.
In Minnesota Santorum got nearly 45% of the vote but only gained 6 delegates while in Colorado he got % of the vote and won 5 delegates. The Tuesday vote in Missouri was non-binding, with the actual primary being held on March 17th, but Santorum did very well in this effective straw poll getting about 55% of the quarter million votes cast.
Although the official delegates won will not greatly increase Santorum's overall standing, his strong showing in three states on Tuesday will give him momentum over the next three weeks when no primaries will be held. The next contests will be held in Arizon, Michigan, and Washington during the week of February 28th, followed by "Super Tuesday" on March 6th when eleven states will hold their primaries.

~