May 2, 2012
By J.D. Cook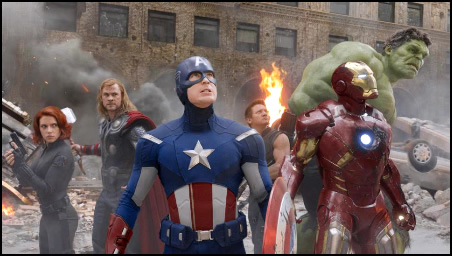 Growing up can be tough. There are not a lot of great role models in today's culture nor were there a lot of great ones in the nineties when I grew up, this is of course excepting my wonderful family. I gravitated towards super heroes from a very early age. As far as I remember I basically went from Barney to Batman. From the age of 3 until now, I have been obsessed with them. I would even credit them with letting me know I should be a writer.  I clearly remember sitting at home at around the age of nine playing with my Spider-Man toys. I wove an intricate plot around the toys I was using. The story was so good that when I finished playing with them I ran and told my Mom about how I had just created this amazing story. I remember falling in love with the mode of storytelling that came from playing with my super hero figures. This is actually a pretty common phenomenon as most directors start out by doing stop motion with their action figures…I'm looking at you Christopher Nolan.
Back to my first thought. So it was that I was a youngling in life training to be a writer. I needed guidance on metaphysical issues like good and evil. Batman taught me right from wrong. The X-Men taught me about racism, Spider-Man taught me what it's like to be human. These were three cartoon shows that were wildly popular with me at my most formative years. Each one quite literally made me aware of these issues. Batman the Animated Series ran when I was young. It gave the world Mark Hamill's Joker, yes that Mark Hamill, and Kevin Conroy's Batman. It also defined Batman stylistically as the show used a new kind of visual dubbed 'dark deco'. This was a show for kids that did not act like it was for kids. Each episode holds up when I watch it today as well as it did when I sat enthralled by it at age five. What made it great was that it did not talk down to the kids that watched it. Instead it brought us up to its level by creating deep plots that were explained simply.
For instance, in one of my all time favorite episodes 'Perchance to Dream', Bruce Wayne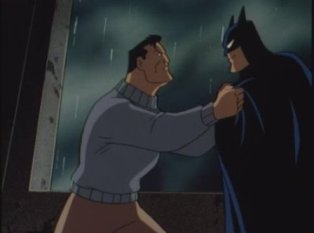 wakes up and finds his life is perfect. His parents never died, he is engaged and someone else is Batman. Of course he quickly deduces something is amiss and this is compounded by the fact that everything he tries to read is gibberish. Finally Wayne confronts Batman and discovers he is within a dream created by the Mad Hatter to keep him out of his affairs. The Hatter laments how he created a paradise for Batman but of course Batman knows this is wrong as it is not reality. It is like the Matrix years before it was made!
Then there are the X-Men. Sure this show can be a little melodramatic at times but this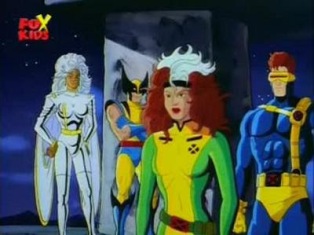 was another one that did not talk down to kids. It could have ranted about tolerance but instead it demonstrated that there were good and bad mutants just like the humans in the show. The X-Men fought for a world that hated and feared them but it wasn't like in the current comics or first class where humans were so disproportionately evil in comparison to mutants that it would make no sense to fight for them. This show gave you a real picture of the world in all its wonderful and disturbing shades of grey.
Finally there is Spider-Man. This was a superhero who taught me one of the ultimate life lessons; no matter how clichéd it has become. With great power, comes great
responsibility. This really is a mantra to live by. The powerful people in this world could learn many things from it. Just look at the current economic status of the country? What if they had been responsible with their power? Even fraternity presidents should learn that their power needs to be used responsibly. Besides that Spider-Man showed me that no matter how awesome your super powers were you still had lady problems and regular everyday problems.
So basically how does this tie into the Avengers? Well the next and newest generation is going to grow up with these movies and characters as their role models and they are important. Just like Batman, Spider-Man, and the X-men taught me life lessons so too will children learn about freedom from Captain America. Don't take super heroes for granted; they are a huge force in the United States and you have them to thank for a huge amount of the gentlemen in today's society. I fight for what I believe in tenaciously, and defend the honor of anyone I can because Batman, Spider-Man and the X-men showed me how first.
Thanks Guys, mostly you Cyclops
Other Super Hero Related Articles
The Avengers: A Review
Avengers Assembly in April
Comic Book Commentary
X-Men: Days of Future Past Preview
Who is the New Batman?