June 27, 2012
by Oliver Layco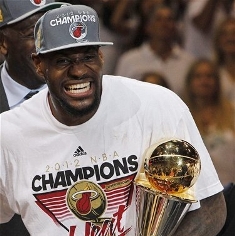 As much as it pains me to say this, LeBron James further cemented his legacy in the NBA by finally winning that elusive first title. There were some that believed, myself included, that if the Heat lost this series that all the pressure would fall on James. Ever since he's proclaimed himself 'the King' he's always rubbed me the wrong way. I knew he had the ability in him to become one of the best this game has ever seen, but until this year I wasn't sure if he could really deliver.
This Miami team seemed to have a greater sense of purpose and less of sense of entitlement then in years past. Last year when they lost to the Mavericks it didn't seem like they wanted it enough just yet. However, going through each round of this season's playoffs, we could see they were more driven. The way they held themselves together against the Knicks, Pacers, and Celtics really showed how they improved. The most significant series was probably against Boston. They were down 3-2 heading to Boston where it's extremely difficult to get a win; let alone a playoff win. Yet, James just seemed to be playing on a different level than he ever has. He had a highly efficient game shooting over 70% on his way to 45 points and 15 rebounds. With that kind of excellence (which many expected him to have in those clutch moments) he is nearly impossible to beat. The Heat would then close out Boston to secure their second trip to the Finals. However, some would say that if Chicago's Derrick Rose weren't injured then that could have changed everything; but it's the nature of a sport where unexpected happen.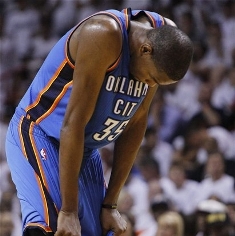 During the Finals they faced off against an Oklahoma City Thunder team that showed maturity beyond its years throughout these playoffs. The Thunder are only four years removed from being known as the Seattle SuperSonics. The average age of their starting five is only 23! This team was able to blow through the Mavericks and the Lakers with relative ease. Their first significant challenge came against the Spurs; who were in the midst of a 20 game winning streak heading into the Western Conference Finals. They even found themselves down 2-0 at one point. Yet, they surprised the league again when they were able to reel off four straight wins against a San Antonio team that seemed to have found the fountain of youth. After they dispatched the three previous champions out West for the past 13 years, it seemed that they would stop at nothing to complete their ultimate goal.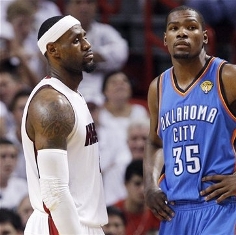 When the Finals started, it appeared that the Thunder would continue their winning ways after beating the Heat by 11 in game 1. However, the Heat turned it around and the entire team showed up to play for Game 2 and for the rest of the series. Guys that weren't consistent throughout the season played extremely well during the Finals. Shane Battier caught on fire from 3-point range; as did most of the Miami team. The most surprising came from Mike Miller during game 5. There were some questionable no calls late in the games that went Miami's way a few times. Yet it's in the past now so there's not much that can be done about that. As for the Big 3 of James, Wade, and Bosh, they all delivered on what we've come to expect of them. Wade willingly stepped down to become the second option when he realized that he and James couldn't both be the leaders. That is one issue that plagued them last year. After Wade did this their offense and overall performance really started clicking. James would go off and really become the leader of the team; and his stats would show it every night. In the clinching game, James would come out with a triple-double and get the MVP of the Finals. If this Heat team continues to play like this, it could be a long reign for King James.
~