July 24, 2012
by Big Blue Bullfrog Editors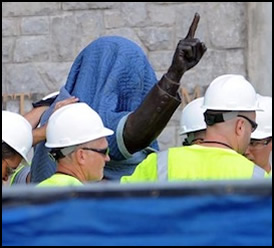 In the final judgment on the Jerry Sandusky molestation scandal, the NCAA let down the hammer on Penn State football yesterday with severity. Although the team will continue to play (no death penalty), they will be ineligible to play in any "bowl" games for four years, will be greatly restricted in scholarship offerings, will be fined $60 million, and their current players are free to transfer immediately and without the usual red tape involved usually involved with transfers.
Although we feel the "death penalty" (which would be no football for several years) would have been a more honest punishment, these four harsh sanctions may be reasonable if there were any sort of cover-up of Sandusky's despicable actions, as the July 12th Louis Freeh report suggests. In lieu of their own investigation, the NCAA based all their findings on the Freeh report, which was commissioned by the university. Many have suggested that it is unfair to punish current players, students, and the community for the action of a few men years ago. We disagree with this logic because there are many scenarios in life where consequences cascade to unrelated parties. Think of the recent college graduate who started work at the "prestigious" Lehman Brothers firm in 2008 only to have the business completely collapse in the financial crisis. Life is never static and the future is always uncertain.
However, there is a fifth element to these sanctions which seems downright Orwellian. The NCAA decided to "vacate" all of Penn State's victories over 14 seasons from 1998 through 2011. This part is downright bizarre. No one accuses the team of cheating or any kind of unfair advantage during this period, just that this is allegedly the era that head coach Joe Paterno was aware of Sandusky's actions and choose to "cover them up". It is blatantly clear that this particular sanction is a direct, personal attack on Paterno's legacy as it knocks him off the top of the list of all time wins and comes on the heels of a creepy, Soviet-style whitewashing of Paterno's accomplishments including the removal of his statue an plaques outside of Beaver Stadium on Sunday. As we mentioned in a recent article called Orwell in America, these kind of illogical re-writings of history and re-definitions of language are becoming much too commonplace and accepted without question in modern society.
This particular sanction in this particular case also sets an awful precedent. For an example, let's compare apple to apples. Here in New York earlier this month, Judge Martin Murphy sentenced an open and proud child molester to just 2 years for repeated offenses. Anyone with a sliver of intelligence or common sense may suggest that this judge should be stripped of his credentials immediately. But to follow the NCAA example, all his previous verdicts would be "vacated" with some convicts set free and those exonerated facing a re-trial (not to mention the district where he sits being sanctioned for years). Of course this would not make sense. You just don't get a do-over, what's done is done.

After the sanctions were announced, the Paterno family released a statement in which they rightly pointed out that "due process" was not followed at any stage of the Freeh investigation and Joe Paterno, who passed away earlier this year, was not interviewed or given a chance to rebuke any of the allegations against him. This fact makes it look all the more like the whole PSU/Freeh/NCAA process is nothing more than a whitewash where a suitable, larger-than-life scapegoat has been offered up in order to get back to business as usual as quickly as possible.
We wrote an article after Paterno was fired last November in which we pointed out that "hindsight is the magical realm where all disasters are averted and all wrongs are righted". We don't pretend to know exactly how complicit Paterno was in the cover up, but we feel history should be the ultimate judge. And that history should be written as unbiased and factual as possible. Those who control the present should not be able to control the past.
~

The Big Blue Bullfrog Blog is published every other Tuesday, covering subjects that are of interest to our readers and, of course, ourselves.