September 6, 2012
by J.D. Cook

Ok…I…promised…I wasn't going to cry…but that was the most gut wrenching loss in
recent memory. First and foremost I live with a Cowboys fan…secondly…that was a bloody atrocious game in every sense. In the first half the Giants defense dominated the Cowboys offense as they sacked Romo and intercepted him. Eli Manning looked as good as always but his receivers dropped a ton of very catchable balls. Last year's star Victor Cruz dropped upwards of three! New acquisition Bennet seemed to be the only receiver playing with heart out there as he chugged up and down the field like a monster.
Ahmad Bradshaw had a few very good plays and a few complete duds. Newcomer David Wilson was only given one true opportunity and once he fumbled he wasn't put back in the game. Sure the fumble was costly but he should have re-appeared running the ball. The only way to get over a mistake is to charge ahead with a better run. Instead he was essentially shelved for the rest of the game. In the second half the defense fell apart completely as one of the starting corners and linebackers left the game. Romo then effectively lit up the depleted backfield as the teams pass rush seemed to be misfiring as many members over pursued Romo or the run game. Not even the Cowboys mind boggling amount of penalties could keep the Giants in this game.
All of this said…this is a good loss. I know; how is that possible you ask? Well it instantly knocks the Giants off their perch as a defending super bowl champion and puts them firmly into the mindset that this is a new season. On top of that, all of that super bowl pressure will find its way firmly onto Dallas's shoulders. Every sports caster in the sports media will now sing their praises and call them the sure favorite in the East. Meanwhile back in East Rutherford New Jersey the Giants will be fired up to win their third super bowl of the Manning era. For any Giants fan who must take crap from a Cowboys fan this week be sure to reply with 'Hey Cowboys fans how about winning a super bowl this millennium?!' Either way my hope is that this loss will spur Bigblue onto a fantastic winning streak but their Offense needs to show up next week and their defense needs to play a full sixty minutes.
~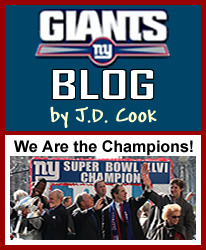 The Giants Blog is published every Monday during the NFL season while the New York Giants remain viable contenders (which in 2011 was right to the end and their Super Bowl championship). On the weeks when the Giants have a Monday night game, the blog will be published on Wednesday. The blogs are thoughtful (albeit heavily biased) analysis of the Giants' performance from our editor-in-chief and Giant fanatic J.D. Cook.