BY: J.D. Cook
Not a fantastic follow up to Resident Evil 2. The series returned to its most popular setting,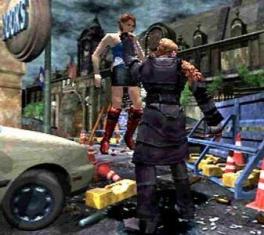 Raccoon City, to follow former S.T.A.R.S. member Jill as she attempted to navigate a treacherous escape from the city. I would say this is the scariest of the three PlayStation entries in the series. You never feel safe while walking through the streets of the city and you never know when the big baddie of the game Nemesis will pop out and attack you with a rocket launcher or tentacle. He just keeps coming after you like a true horror film villain. Unfortunately the game retreads a few too many things from past games and doesn't evolve quite enough past Resident Evil 2. This isn't a bad game; but it doesn't measure up to the first two either.
7 out of 10 Bigblue Leaps!
Read Reviews of Other Games in the Resident Evil Series here
Resident Evil: Directors Cut
Resident Evil 2
***

Nutshell Reviews is a collection of very short reviews of the most significant movies, books, music, and video games, from both the present day and days gone passed.