By: J.D. Cook
If this was a fantasy novel the humble miners would have just been crushed by Giants who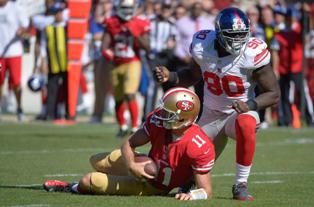 roam the land seeking their next super bowl! Going into this game many fans, coaches, and players called out the Giants defense. Well…they heard us! Last week the offense effectively beat the Cleveland Browns and this week the defense effectively beat the San Francisco 49ers. The defensive line I called out last week got six sacks against a top knock offensive line! Rolle's two picks only gave the team six points but they essentially killed San Francisco's momentum so well that they couldn't recover. Oh yeah and Bradshaw is suddenly resurgent! He's running with purpose and power I haven't seen since he was a rookie!
I love when the Giants face the 49ers because of the storied tradition these two teams have. It's almost always two intense defenses hitting each other and causing pandemonium among the opposite team. This game was no difference; except that the 49ers defense was not nearly as dominant. Lawrence Tynes proved himself the unsung hero of the team contributing four field goals. While his adversary on the other side David Akers only made one of three. It was nice to see an old Eagle fail to fly! Actually I wish Akers the best in his post-philly career but not yesterday. Victor Cruz continues to prove that he is the best wide receiver the Giants have had in many years. He is as consistent as Amani Toomer and has the explosiveness of Burress. Behind him Hixon has shown that he can replace Manningham as an exceptional number three option. Nicks is still recovering but he is also exceptionally talented and should add more potential into this great receiving core. Anybody remember the Giants Steve Smith? He went off to join the dream team and vanished.
There is not much more I can say about this one. We handled business and stepped up to the plate. Unfortunately the losses to Philly and Dallas still haunt me. I would call us the best team in the league if it wasn't for those ugly games. Right now we are certainly a good team with potential but unless we handle our division next week against Washington we will remain just that. So bring on the pork dinner next week!
***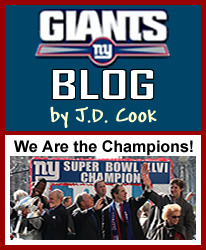 The Giants Blog is published every Monday during the NFL season while the New York Giants remain viable contenders (which in 2011 was right to the end and their Super Bowl championship). On the weeks when the Giants have a Monday night game, the blog will be published on Wednesday. The blogs are thoughtful (albeit heavily biased) analysis of the Giants' performance from our editor-in-chief and Giant fanatic J.D. Cook.