by J.D. Cook
Well yesterday I felt more heart fluctuation then in any of my romantic relationships. It even sort of mirrored a relationship. There were good euphoric feelings at first and then things got complex and convoluted before ending in shocking fashion. I'm of course referring to the Giants game against the Cowboys yesterday. Before I even go further on that let me just say how ridiculously heavy a bias the Dallas Cowboys had in the commentator booth. Both commentators seemed generally excited when Dallas did anything productive or scored while they seemed quiet and silently muted when the Giants did the same.  That said Fox Sports did a great job of turning the fact that Jimmy Johnson and obvious Cowboys leaner said Eli would throw four interceptions…Romo was the one to throw four of them.
Now onto the game…sports media bias and heart fluctuations aside. The Giants dominated the first quarter on defense. This entire game can really be chalked up to a defensive win. Eli and the offense did not do much of anything sadly. Andre Brown had the team's lone offensive touchdown and looked the most impressive when he had the ball due to the change of pace between him and Bradshaw. Lawrence Tynes was the true offensive star of this game because if he had missed one field goal the Giants would have lost the game.
Pierre-Paul and Chris Canty seemed to be hassling Romo the entire game despite only recording four true sacks. Stevie Brown was a wonder at Safety doing everything he could to win the game and shut down the Cowboys passing game. Now for some honesty; I really thought the Giants goose was cooked after the Cowboys roared back. The team had lost all of its momentum…which was really Dallas's mistakes turned into field goals and touchdowns. I wish I could find more to say about this game. We got extremely lucky after almost gift wrapping the game for Dallas. An effort like yesterdays will not beat the Pittsburgh Steelers next week nor will it beat anyone in the future. I don't know why the Giants can't seem to play 4 full quarters but I suppose I won't complain as long as they win. Just wish they could win in a way that doesn't need the refs to call a wide receiver out of bounds via finger tips. Anyway I just want to move on from this maddening game. Onto next week!
~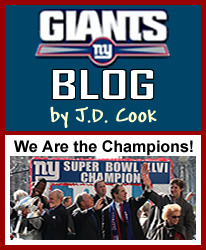 The Giants Blog is published every Monday during the NFL season while the New York Giants remain viable contenders (which in 2011 was right to the end and their Super Bowl championship). On the weeks when the Giants have a Monday night game, the blog will be published on Wednesday. The blogs are thoughtful (albeit heavily biased) analysis of the Giants' performance from our editor-in-chief and Giant fanatic J.D. Cook.