by Oliver Layco
Perserverance. Dedicated. Insane. Those are words that could be used to describe me. I have been a Spartan since September of 2011. Those 8 miles that introduced me to the world of Spartan racing were some of the toughest physical and emotional obstacles I've put myself through. It was over a year ago that I went through this alone and came out a Spartan.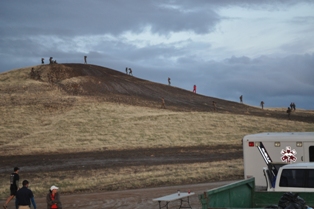 One year later, I was at it again. This time it was longer and more difficult. At over 14 miles, it was sure to push me even farther than I've been before. However, this time, I wouldn't be alone. My friends Brendan, Mylinh, Ron, Luke, and Channing would join me on this quest to become Spartan Beasts. We agreed to stay together as long as possible; and if we did split up to make sure we were paired up with one other person. When the gun went off, a light rain started and we were on our way. Immediately we were greeted by a giant hill; the first of too many. We then had to jump into three consecutive water ditches; with each a deeper depth than the previous one. After we emerged from that last one, my fingers were already numb. We then continued along our way through the rolling hills. My friends and I really stuck together as long as possible because we really wanted to make sure we finished together. However, that was not the case as I could see early on that we would eventually be separated. The hills kept coming at us and the obstacles kept getting tougher. By the time we reached the first barbed wire crawl, I realized this was a completely different experience than the Super Spartan I went through a year ago. I did get a surprise at the crawl when I ran into two old friends from elementary school. It was a nice change of pace to see some old faces. We were hoping to run into each other at the finish line, but after they went ahead of me, that would be the last I saw of them. My compatriot Luke would eventually succumb to the Beast and would have to drop out of the race. Since that point, my remaining friends and I had one thing on our minds; surviving. We walked with Luke to make sure he was okay until the course officials picked him up. After that, we all looked each other as our stomachs grumbled in unison. At that point we decided to just go for it so we could get some food. However, the course had other plans in mind. We kept jogging along, but slowly we got separated one by one. Before I knew it, I was by myself while the sun was setting. For what seemed like forever, there was another barbed wire crawl that I had to endure when the sun was down. Rolling and crawling my way through mud and rocks, I zoned out and just focused on one goal; finishing the race. I was so close to my goal that I wasn't about to let some barbed wire or mud get in my way. I powered through the crawl and came out covered in mud. Hypothermia was starting to set in but I didn't care. I could hear the announcer and see the lights over the last hill. My legs were continuously trying to cramp on me but I wasn't going to fail. I've come too far and before I knew it I saw my girlfriend
near the finish line. I stopped to give her a quick kiss, and then I rolled under the last set of barbed wire before jumping over the fire. With that I crossed the line and officially became a Spartan Beast. With the medal secure around my neck I was relieved. I was shivering uncontrollably as were my teeth. Unfortunately, I wasn't able to meet up with my friends afterwards because of my condition. But now I know I have another bond with them. Together, we are Spartans; And you can bet on it that we'll be at it again next year and for years to come.